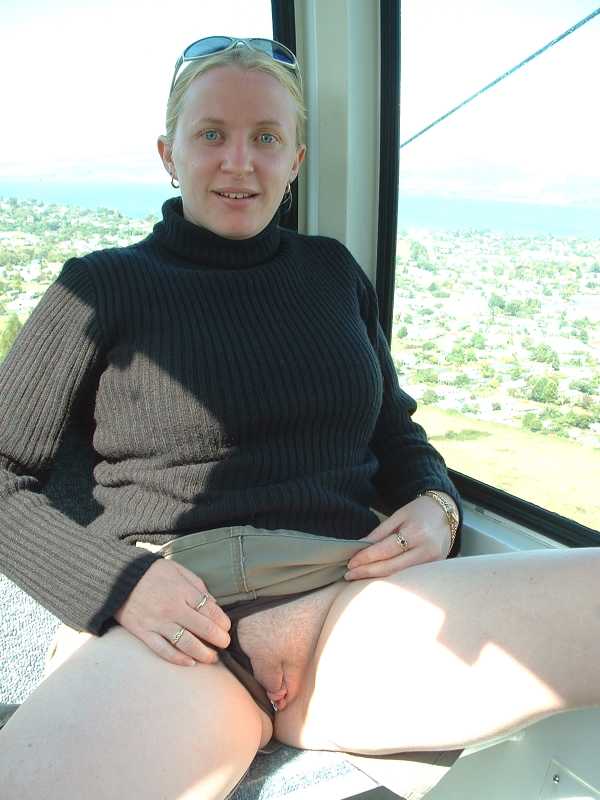 Nice site - Here is a picture of me flashing my clit in the cable cars while we were on holiday. There wasn't much to tell about that flash so I'll tell you something else that is juicy about me.
My husband and I are both 28, we married at 18, he was always talking about a threesome, with another male, so one night his friend was over at the house. My husband talked me into wearing something sexy, I went into the bedroom, and put on a belt, and nothing else, I walked out and he was so shocked that he couldn't talk for a minute. His friend was going crazy. Before the night was over, we had our first threesome. I fell in love, with 2 men at the same time. After about a year, I wanted to have 5 or 6 men, a gang bang, it took my husband quite awhile to find 6 guys that would go along with us. We will be having it in about a week so stay tuned! - Kayla
PLAYING A REAL GAME
The Dare Videos are a small homemade operation. Like myself, the guy who makes them LOVES truth or dare and has a hobby website for it. He gets participants locally by placing ads in the 'personals' section of the local shopper, asking girls to play truth or dare with other girls. All players are over 18 and do this for fun. No pros!