Babes Flashing - Great pics of women and female flasher exhibitionism poses in public
Babes Flashing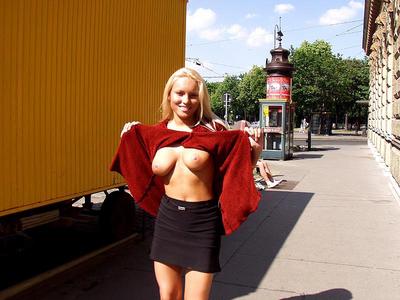 Babes Flashing Confession:

My ex-wife's youngest sister was getting married. Her girlfriends had a bachelorette party for her. Naturally, my wife and the other two sisters were all invited to the party. At the time, I was working in the restaurant business and never got home from work until sometime after 2 AM.

On that occasion, I arrived home at a typical time ... but that was where typical ended. Most of the time I'd come home to a sleeping household, maybe watch some movie on TV for a while and eventually, around sunrise, go to bed. The ex was always asleep and had stopped being interested in waking up for any sort of "slap and tickle". I was pretty surprised when she met me at the door in a black, sheer nightgown. It was one I hadn't seen before. I said something like "you're lookin pretty good."

She didn't say anything, just took me by the hand and led me to our bedroom. It had been really dark at the entry hall and all the way to our bedroom. In the room, she had a bedside lamp on. In that light, I could see that the sheer nightgown was the only layer of cloth on her, no panties, just her under that thin material. My clothes came off in a shared effort. While I pulled my shirt off, she was un-buckling my belt and pulling my pants ... underwear and all ... down to my ankles. During this, she started breathing harder and sort of making a "mmmmmmmm" sound when she exhaled. It also started to be more obvious that she was pretty drunk.

With my pants down around my ankles, Carol started to try pulling my shoes and pants off all at once. She was squatting down in front of me. Things were getting all tangled up and she started to loose her balance. First she sort of leaned back, but caught herself by grabbing behind one of my naked legs. I leaned back a little because she was pulling and then she came tumbling forward and I went over, onto my back, on the bed.

I knew she was pretty drunk already, but at that moment it was completely confirmed. Sober, Carol was a minimalist when it came to sex. Put it in and pump til you cum was her idea of a good time. There we were, I'm on my back, pants caught around my ankles and sort of pulled over my shoes. Carol was now kneeling at the foot of the bed and looking at me over my cock.

She still hadn't said a word. She just leaned forward and started to kiss my balls. I remember thinking "I hope she doesn't pass out before we can have some time here." After a little kissing, she started licking them .. and slowly stroking me. It really felt great and I would have opened my legs to give her easier access to my balls, but my ankles were trapped in my pants and she was kneeling on my pants.

Then she started to suck my cock. Something she almost never did ... but it was like she was trying to make up for lost time. I sat up on the bed and reached down her back, trying to touch her ass and squeeze it. When I did, she sucked harder and lifted it up a bit. I pulled on her to get her up on the bed. With a little climbing and fumbling ... during which she never let my cock out of her mouth ... she was on the bed and I was pulling her over me. By this time I was gonna take every advantage of her mood that I could. Getting her into a 69 position was all I could think of. One more thing she didn't like, especially with her on top. It made her feel dirty, she said.

This time, when I got her knees straddling my shoulder with her pussy open above me ... I pulled down on her and lifted my head and started tonguing her slit. Her cock sucking got more intense and, pretty soon, with every second or third stroke on my cock with her mouth, she'd pull off and moan and actually pant for a moment of two. There was a short while that I thought I was going to get her hot enough that I could get away with cumming in her mouth. I could feel her starting to tremble a little bit, especially when my tongue hit her clit. Suddenly she pulled her head up and scooted down my body and just jammed herself down on my cock. As soon as it was all the way in she started to cum. All the while she started talking for the first time since I arrived at home ... "give it to me ... squirt in me ... please ... squirt in me."

This was the hottest I'd ever seen her. Being a gentleman at heart, I couldn't possible ignore her heart-felt request. I shoved up into her pussy as hard and fast as I could till my cum was squooging back down around my shaft with her juices. The next morning, when I got up, she had already been up and was dressed and looking only a very little hung over. Over coffee she said, "they had male strippers at the party last night." She took a sip of coffee and I said "really?". Kind of looking at me over her coffee, she said "some of the girls gave the dancers blow jobs." Now I was starting to understand her hot behavior the night before. When I didn't say anything, she added "I gave the first one."





Breckin & Mudy


Ashley & Chris


Tabitha & Burt


Justine & Sam


Jenna & Albert


Amanda & Zack



WATCH THEIR SEX TAPES,
- KEEP THEM FOREVER!!

From the makers of DARERING comes another nugget called SELLYOURSEXTAPE. These are local couples from Oregon who simply responded to a 'make money' ad. They borrowed videocameras from the site owner and filmed themselves at home, in the shower, outside ... ...

Click here to see samples!







You saw with DareRing how the girls who played truth or dare really were 'true' amateurs who have never played before and have never been on camera. Well, the same webmaster took the same idea for this new site. He placed ads in his local shopper and asked couples to film themselves (in exchange for some good spending cash $$$) for a week doing everything from having sex to brushing their teeth to flashing outside etc. The money was too good to turn down and they all gave it a go and had a blast! Some of the couples are really adventurous and flash or even have full on sex in public. Keep all videos for life. Highly, highly recommended! - Webmaster



CLICK HERE TO SEE SAMPLES!






Ashley & Chris


Breckin & Mudy


Amanda & Zack


Ashley & Chris


Brandie & Mort


Jenna & Albert








Public Nudity Stories&nbsp&nbsp Free Sex Pics&nbsp&nbsp Blog&nbsp&nbsp
Dating Services&nbsp&nbsp Voyeurs Pics&nbsp&nbsp MILFs Pics
Cuckold Wives&nbsp&nbsp ENF&nbsp&nbsp Nude Pictures&nbsp&nbsp Hot Girls

Submit your Truth or Dare Pics and Stories!



Babes Flashing Links
Truth or Dare | Naked Truth or Dare | Mature Adult Friend Finder | MILF's MILF | Mummies | Free Sex | | Bigger Penis |

| MILF Site | Horny |
Shopping Online | Weight Loss | Romance | Swingers Personals | Sexy Lovers | Mature Adult Personals | Mature Woman | Naked Girls | Jewelry | Auto Parts |
Vitamin C | Collectibles | Adult Personals | Adult Dating | Wife Lover | AdultFriendFinder | Hot Wife | Video Chat | Adult Dating Online | CFNM |
College Girls | MILFs Hot Moms | Mature Women | Bangmatch | SexAffair | Milf4U | Dawns Place | Adult Friend Finder | Flowers |
Lesbian Sex - HerFirstLesbianSex | Dating Ads | ImLive | Soccer Moms | MILF Sex | Free Adult Personals | Adult Chat | Hot Moms |
Amateur Webcam Online | Adult Chat Housewives | Erocity | Cuckold | MILF Dating | MILF Soccer Moms | Cheating Wives | Busty Moms |




© 2004 Truth or Dare Pics