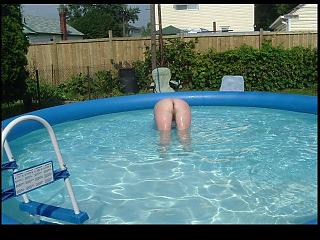 Naked Pool Party - I was invited to a little pool party at the home of an ex-neighbor (see her butt flash pic attatched). My wife and I had divorced and I moved away. The neighbors heard I was in town to clean up some legal issue and called and asked me to drop by. They told me to be sure to bring my swinsuit (Damn, I thought, I was hoping it would be a nude party). But I'd known them for some time and knew they were relatively conservative.
I got there and the wife (Liz) showed me to a bedroom where I could change from my street clothes. I did, and joined them and several other old neighbors at poolside. We talked, swam, laughed and of course drank for several hours. Things began to break up as midnight approached. Soon it was just Liz, her husband and me. I announced it was time for me to go. Liz's husband said he was drunk, tired and heading for bed.
I went into the bedroom where my clothes lay on the bed and stripped off my swimsuit. But before starting to dress, I went into the adjoining bath to pee. I heard someone shuffling around in the bedroom and knew it had to be Liz or her husband. Hoping it was her and also hoping she would stay a few more seconds, I gave my cock a few tugs, just to plump it up a bit. Not fully erect. The alcohol and being the only single guy at the party had made me pretty horny so it only took a few seconds for me to get my cock interested. I took a deep breath and walked into the bedroom.
There was Liz, fully dressed but rummaging through a dresser drawer. She took one look at me and began to apologize. I knew the apology was not sincere given the fact that my clothes were still spread out on the bed and my swimsuit was resting on a towel also on the bed. She had to know I was in the bathroom naked.
I quickly told her not to worry about it, so she just stood there looking at me. I picked up my towel and finished drying off. Actually I was bone dry, but I loved having her there fully clothed and staring at me. My cock grew harder and she did not hide the fact that she was watching it. I began to slowly dress as she and I talked. I slipped into my shirt before donning my briefs. Then I stepped into them and pulled them up slowly. She smiled as I had a bit of trouble tucking my hard member inside. I finshed dressing and walked with her toward the door. I asked where her husband was and she said "passed out." There was a moment of electricity as I opened the door. It was as if the two of us were saying, "should we." Well, we didn't. We kissed very lightly and I left. I have not been back to the old neighborhood in 10 years. I have not seen them at all. I still ask, "should we?"
*** Couple Ads - Getting Her Laid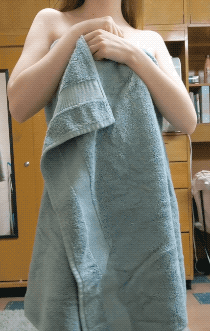 - Couples post ads seeking men or women.

- She plays ... he watches.

- All listed by state and city.

JOIN HERE

© 2004 Truth or Dare Pics