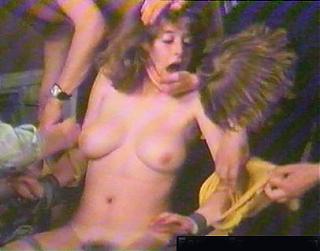 Stripped Naked -

A good friend of mine moved to Maryland, met a girl and decided to get married. Gave me a call and asked me to be his best man. Wife and I packed up and went out for a 5 day weekend, along with our 6 month old son.

Night before the wedding we show up at the rehearsel, first time I've met the rest of the party. My buddies wife to be has asked her college bud Lisa to be her bridesmaid. WOW! This gal was dynamite. Gorgeous face, medium tits and a figure to die for. I'm supposed to walk her down the aisle, - almost had to stop and wipe the slobber off my face. Then I realized my wife was sitting in the front pew holding our son and wiped the shit eating grin off my face. Regardless, the small talk and banter had electricity to it, I felt the sparks fly every time I took her arm.

We all went to dinner after, and Lisa ended up sitting across from me, with my wife next to me. Every time our eyes met they lingered just long enough to say there was interest there....

The day of the wedding, I was supposed to be at the church an hour earlier than my wife so we went seperately. I saw this gal as she came in - she waved as she went to the bridesroom. Later as we met up after the girls got dressed I found my breath taken away. The bridesmaids outfits were off the shoulder, form fitting, with lots of bosom showing. Definitely sexy. (My buddy commented on her to me at one time "Isn't she pretty?" Oh my god.) Lisa and I were scheduled to do virtually everything together, walk, sit, whatever. I tried to pay a little attention to my wife, but it just wasn't easy. I saw her looking a little funny, and when I checked on her she said she was coming down with a migraine headache. Later in the evening, she took our son and went back to the house.

Lisa and I hit it off almost immediately. As soon as I spoke with her I knew she had been drinking. The girls had all been drinking mimosas during the morning, and had graduated to straight champaign. She was definitely enjoying herself as much as I was, and making no attempt to spend time with anyone else. What with the wedding party going on, I don't think anyone else noticed anyway. After the wedding, a Limo took the wedding party to the reception. Us guys crawled in first - me being first in, I was at the front facing back.

Lisa crawled in, and when she did I had a gorgeous downblouse shot between her boobs, if the dress had been quite so form fitting I know I would have seen nipple. As it was, she slid all the way forward next to me, but it still wasn't enough. By the time we got ten adults with a wedding dress to boot in that limo, there just wasn't enough room. Lisa volunteered to sit on my lap, but with the low ceiling had to lean back with her head practically on my shoulder, her back to the rest of the limo. She nestled in my arms, we all slid closer together until everyone was in for the 5 mile ride. I was looking down the limo at first, but when I brought my gaze closer, there it was. Setting in my lap, Lisa's form fitting dress was pouched open just enough that her right breast was totally exposed just a foot from my eyes. Cute cone shaped with a cherry aureola and perky nipple. The way we were sitting, without physically taking a hand up to hold her dress closed and let everyone else know what I was seeing, there was nothing we could do about it.

I gulped - and immediately my cock started hardening. Everyone was talking and laughing, brushing off rice and congratulating the bride and groom so they weren't paying any attention to Lisa and I. She already had her mouth right by my ear and said "Am I doing that to you?" and moved her leg just enough to let me know she was feeling my cock. She moved just a little bit, and apparently noticed that her breast was exposed. I felt her twist just a little, trying to get her dress to quit gapping open but it didn't move. She giggled in my ear and whispered "I'm glad it's you that gets to enjoy the view but I sure hope you don't embarass yourself when we get there."

I didn't. Being the first one in I was the last one out - by the time I got out I'd managed to control my erection enough to hide what was left with my jacket.

The tension between Lisa and I built by the minute. It wasn't long before I found myself tossig a double entendre her way and she took it and tossed one right back at me. I knew and she knew that before the night was over we'd be fucking. Our talk to each other kept accelerating into the risque. I can't remember everything we said. When they brought us drinks, mine had a maraschino cherry I took it and said to her "Look, at least I get to suck on this cute little red thing." She responded by giving me her cherry and saying "Here's one of mine, I like it when other people suck on my cute little red things."

Later we danced, and after the cake was cut and we'd all had some she excused herself to go to the restroom. When she came back to the table, she sat down and with her right hand tried to slip something into my left. I took it, and knew immediately it was a thong. I slipped it into my pocket and said "I better give this back before the night is done so my wife doesn't wonder where it came from." She whispered back "If you're lucky you can put them on me". Later I noticed during one dance that I couldn't see any panty lines and wondered if anyone else noticed.

The bride and groom left about 8 o'clock, and after we sent them on their way we went back in. We danced and flirted for about another hour or so and by that time most everyone was beginning to move on. I suddenly realized that I didn't have a ride home, my wife had taken the rental car when she left. Nobody had thought about the wedding party, and all our cars were back at the church. We arraigned to get rides, and the party pretty much broke up.

When we got to the church, everyone else had a ride except me, so Lisa volunteered to give me a ride. We took off and I didn't even ask where we were going, she just headed to her hotel. Once we got into the elevator, we were all over each other. We kissed and fondled and hugged. We got off at her floor and I don't think the door even shut before we were getting naked. We fucked and sucked for about two hours, until I knew I had to get back, there was no way I could explain being away all night to my wife. Reluctantly we cleaned up (I did put her thong on her by the way) and she drove me to my hotel. My wife was just glad that I was there - her head was killing her and she didn't even notice what time it was.

The following morning, my wife stayed in bed while the rest of us all met at my buddy's parents house to watch them open the gifts. I showed up just as Lisa did, with my son in tow. She stopped me from going in, long enough to have a quick talk. She rubbed my son's head and said "Thanks for a fun evening. I just wish I'd met you a few years earlier." I agreed, and said that I wondered what might have been.

The following day we flew home, and I haven't seen Lisa since. That was 4 years ago.

Kelly





LOCAL SEX CLASSIFIEDS
- HOOKUPS, CHATTING, SEX GAMES & MORE ...



37,000 + TODP MEMBERS ALONE! ..............................CHECK IT OUT

30 MILLION WORLDWIDE ...