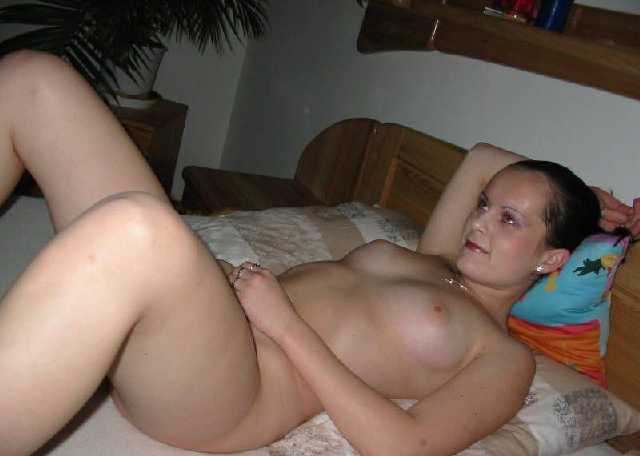 This Caught Nude picture was sent in by Robin.
One of the dumbest things I ever did, was the time I was over for my brother's condo, and three of his friends were working out in the basement on my exercise equipment. My brother had a habit of letting his friends use his equipment to work out. I actually went over to my brothers to drop off some stuff to him, but he was not home. I was dressed up. It was in May, and I was wearing a white dress, white sandals, white stockings, and a boring white bra and white panties. I was on my way home from having lunch with some friends, and I had quite a bit of wine at lunch.
I knew two of the guys pretty well as they've been friends of my brothers for years, the third guy I never met. I should mention not one of the three guys knew anything about my why wild exhibitionism and sexual side.
The guys had been working out on the equipment and they were very sweaty. All three of them were in work out shorts that did not leave much to the imagination. Two of the guys did not have shirts on. I was introduced to the third guy and was making small talk with all three of the guys. The fact that these three guys basically had next to nothing on, and they were sweaty, and I had a fair share of wine, and none of the guys knew that I was in exhibitionist or anything about my sexual side, was causing my hormones to rage..
We were talking about working out as I remember, and I was deliberately not being careful with how I was sitting on this cushion on the floor in the basement. I even went as far to sit in yoga position, which gave two of the guys that were directly facing me a clear view of my panties. My teasing was causing the guys a difficult time, and it was obvious that the one guy had gotten a major hard on. I then took off my sandals, and decided I would try to use the leg presses. In the process I pulled up the bottom of the press practically to my waist, giving all three guys a complete view of my panties. I was being so innocent it was unbelievable even to me I remember saying I would like to work out on some of the other equipment, and wish I had different clothes. Then I took a big risk as my hormones were raising, and asked the guys if they had any objection to me taking off my dress and working out in my panties and bra.. I rationalized since my panties and bra were effectively like a bikini any way and two of the guys had seen me in a bikini years ago anyway. I'm sure not one of the three guys thought I was serious.
After I said that I would take off my dress, I got a little bit weak in the knees, and said maybe I should go upstairs and see if there's anything I can put on to work out in, and that I would also see if my brother had any beer in his refrigerator upstairs. I went upstairs, and open up the refrigerator and got some beers out for the guys and me. I figured I'd did tease the guys about taking off my dress, and they did not object, and I was beginning to get my nerve up, and my hormones were raging. I went into my brother's bedroom on the second floor and looked in the mirror, and decided to pull my dress over my head. I was nervous and for some reason I went into my brother's closet thinking maybe I would put something on, and I grabbed a hangar and put my dress on it and hung it up, and then decided I should go for it. I went back downstairs to the kitchen, in my panties, bra and stockings, and I grabbed the beers to take down to the basement where the guys were. I was at the top of the steps getting ready to head down the basement, and I told them I was coming down with their beer. The look on ther eyes when I walked into the basement in just my panties bra and stockings made my hormones rage even more, and I was sure that I sparked the interest in all the guys pretty well.
The four of us were sitting trying to make small talk while we drank the beer. I decided to take off my stockings in front of them, and took them off. I then decided to do a couple things on the exercise equipment, which included doing pulldowns and pull ups. I was wet, and I was trying to figure out a way to undress further. Two of the guys were only in shorts, and one guy had shorts on and a shirt. I told the one guy who still had a shirt on, that it's really not fair that I'm in my panties and bra, and he has his shirt on. With that he took off his shirt. The guys then teased about them not having shirts on and being topless, and were teasing me to take off my bra. I then decided to go get some more beers. And I went back upstairs while the guys pouted that I would not take off my bra. I got into the kitchen and figured what the hell, and I took up my bra and laid it on the kitchen counter. I got the beer out of the refrigerator and was going to go back downstairs in just my panties, the hormones were really raging now, and I pulled my panties down and off and left them on the kitchen counter as well.
I went down the basement and told the guys no need to pout anymore. I then sat on the lap of one of the guys who was sitting in a chair and I was facing him, and I was grinding my pussy through his shorts. I pulled out his cock, and he penetrated me while the other two guys were watching from the side. I was riding him pretty good, when I heard something that sounded like the garage door opening. Foolishly I continued, not that it probably would've mattered, and I heard footsteps coming down the steps into the basement. I got off the guy barely in time as the one guy said your brother is coming down the basement steps. But the look on my face, and the look on all the guys faces, and I knew my brother knew what we were doing.. my brother was standing on the steps facing us, and me being totally nude was the dumbest thing I could've ever done. My brother told at all the guys to get the hell out of the house, the guys said nothing and grabbed their stuff. And walked by him and went up the stairs.. I could not figure out why he was not yelling at me. He told me to get dressed and leave and he would talk to me the next day after he calmed down. He then went back upstairs leaving me downstairs. It was then I realize that I left all my clothes upstairs. I then walked upstairs from the basement and into the kitchen. It never dawned on me that anyone other than my brother was at home. When I walked into the kitchen to get my bra and panties, there was my brother, his girlfriend and two other couples. I literally froze and stood there. then I noticed that my panties and bra were not on the counter. I walked out of the room and no one said a word. I then went upstairs to my brother's bedroom, and put on my dress. I walked back down to the front room and left the house. It was the most embarrassing moment in my life.
My brother was mad as hell and there were consequences to pay. It turns out that two other couples were customers of his business.
LOCAL SEX CLASSIFIEDS
- HOOKUPS, CHATTING, SEX GAMES & MORE ...



37,000 + TODP MEMBERS ALONE! ..............................CHECK IT OUT

30 MILLION WORLDWIDE ...
© 2004 Truth or Dare Pics