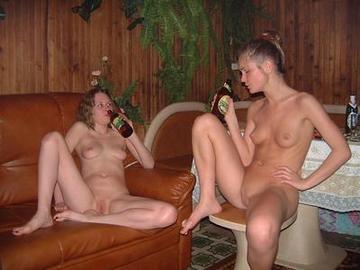 This Exhibitionism Story was sent in by Anonymous.
"I don't know if mine's as good, but here it goes. I was caretaking my uncle's place out west on the high desert with my girlfriend. It was five miles to a highway (actually a paved road) and seventeen miles to the nearest 'town' of 25. Very isolated. I was between jobs and working on my thesis. There was a phone line, but no TV, little radio, and three chicken coops, two mares, and a couple of ATVs. We had a blast. There was no one within three miles, over a ridge. A spring fed a nice pond with a diving board, and the house stayed cool through the heat of the day.
One of my buddies called and decided to come up to this place on his vacation from the east, with his girlfriend, Sonya. I'd never met her, but found out she was worried about biking that far as she was a fair-skinned woman with platinum-colored hair. They decided it would be fun anyway, so they told us to look out for them.
In the meantime, my girlfriend and I romped around the place, sometimes dressed, and sometimes naked, swimming, hanging out, reading, writing, and just plain screwing off when we weren't screwing.
The afternoon before they were to arrive, we were chilling in the pond, naked, just floating around after a long fuck when I could hear someone coming up the road towards us. I thought it might be local mechanic, who was supposed to fix the well pump but as it got closer, I could tell it was a motorcycle. Sure as hell, it was my buddy and his girl. He got there before we could even have the lightbulb that we were both naked.
So, as he's getting off the bike and she's climbing down, heading towards the house, I yelled towards them from the pond. They walk over and we do introductions. Sonya says that pond sure looks good. He's figured out that I haven't gotten out because my girlfriend and I are both naked. He's always been a bit on the prudish side, but I know he's about to get an eyeful of my girlfriend and know that she doesn't care. She had no hangups about clothes. Sonya asks him if he minds if she takes a dip, and then adds "skinnydip". I could tell he was having problems with the idea himself, but he tells her to go ahead. She gets out of her chaps and my girlfriend and I both watch as she strips naked. The sun she'd gotten made a funny tan line on her, and she was otherwise as pale as porcelain, and built really well, with a tittie ring on 36B tits, and a little devil tattoo on her butt. No pubic hair to speak of, just some wisps of her platinum hair. She ran off the diving board and cannonballed into the pond. My buddy is standing there, watching it all, still in his leathers.
We played around while he took his gear inside and tinkered with his bike, an old shovelhead Harley. Finally, we three walked out of the pond, stark naked, and headed to the shower beside the main barn and showered off the pond water. My girlfiend, who'd nicely and plumply built, seemed to really enjoy Sonya, and we went straight to the house, not picking up her clothes.
As my girlfriend and I had tanned up to an almost nut brown, we made jokes about the paleface, and happily, she stayed naked, very unconcious about her lovely bod. But my buddy stayed clothed, and didn't seem all too happy, even though I caught him watching my girlfriend, especially when she bent over (she has a world class butt, even to this day). Sonya never did put her clothes back on for the entire stay, and we rarely did, when we had to head to get supplies.
He cooled off after the second day, and we could hear him nailing Sonya long and hard as their bed had creaky springs. This turned on my girlfriend to no end, and she pretty much raped me several times. On the fourth day, I was making coffee when Sonya came out of the guest bedroom, a bit fuzzy, and came and sat in the kitchen. She sat down, legs apart, and I could see the dried juices on her leg. My girlfriend came back from the hen house with some eggs for breakfast. As I'm leaning on the counter, she's frying some eggs and bacon, then I look over to Sonya, and notice that she's got a creampie going. I nudged my girlfriend, who turns around to notice it. Her eyes got really wide. Sonya is out of it, yawns, and gets up to go to the washroom, and I got raped again, right there in the kitchen, while the bacon's burning. As I'm nailing her, listening for the water to go off in the washroom, I hear another creak, and it's my buddy walking towards the kitchen. He didn't catch us fucking and the smell was masked by the frying bacon. But I had to face the counter until my erection went back down.
It went like that for the next four or five days. The girls went horseback riding, and provided me endless eye candy. My buddy finally joked about it all, resigning himself, I guess. And just before they left, he took me to side and said he had expected to rest a lot, but instead, did more fucking in the past few days with Sonya than in their entire relationship, and although it wasn't totally relaxing, it sure was different for him. I asked him if he was ever going to take his clothes off in front of others, and he said probably not, it was just too ingrained in him. He got on the bike and fired it up. Just as she's pulling her leg over to straddle the seat, she looked right at me and rubbed her pussy through her jeans at me, in a jerky way. She put on her helmet, and they were off."
Anonymous
LOCAL SEX CLASSIFIEDS
- HOOKUPS, CHATTING, SEX GAMES & MORE ...



37,000 + TODP MEMBERS ALONE! ..............................CHECK IT OUT

30 MILLION WORLDWIDE ...
© 2004 Truth or Dare Pics