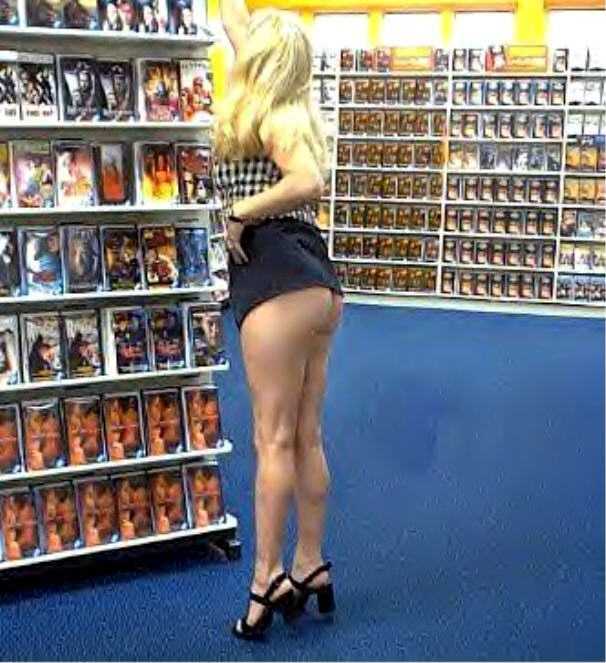 This Female Exhibitionist picture was sent in by Joe.
I saw a couple at a video store walking around in the adult section in a secluded area. She was wearing a short skirt and I acted like I was looking at the movies getting kinda close to them. Every time she tried to read the tag on a movie, she bent over a little and I eventually saw a little bit of her ass cheeks. Then a bit more, then a bit more. This was too good to be true and my friends would NEVER believe me so I decided to whip out my cell phone and take a picture as proof. Please see attatchment. Anyway, her guy noticed me looking one time and I thought I was busted. But right after that he said something to her in a whisper I couldn't hear. They walked over to another area and she bent way over trying to read a tag and I saw her complete ass. Then her guy walked away like he was looking at other movies about 20 feet away, but was looking at her ass too.
Then he went over to her again and said something else to her I couldn't hear. Then he walked away again. She stepped over to another movie, and bent completely over and everything showed. She had no panties on and I could see her lips showing from behind. I got an instant woody. No one had came around yet so I stepped a little closer and squatted down behind her about 5 feet behind her.
Anyway this couple was definitely teasing me and I knew it now. Like I said, I was about 5 feet behind her and looking at her pussy as she bent over. Her guy was watching from a little farther away. She knew I was right there. She stepped a little to the side and her legs spread a little bit. I now realized she was doing this on purpose and her guy was watching. To my disbelief, she stood back up and stepped over to the shelf right next to me and bent over again, this time with her ass within arms reach. I was scared to touch her for fear that would blow my incredible show. So after a few minutes of staring, her guy walks up and while leaning over next to her, feels her ass and asks her if she likes that movie.
I'm right there, maybe 5 feet away squatting down watching this. Her guy says, Ok, I'll be right over there, and walks away. It was like he was telling me I could feel her ass. Being completely silent, I reached over and just barely stroked her ass and pulled my hand back. She didn't flinch. With perfect timing, I saw a couple approaching the adult section and I stood up and walked away to another area. Her guy came over and she stood up and they went to another area also. With what had just happened, I wasn't going anywhere just yet. The couple looked around a few minutes and walked off. The short skirt, that I now knew was walking around with no panties, was walking over into the rows of drama films. I followed, of course. After about ten minutes, I was acting like I was studying the movie about 20 feet from them. Then I saw him feel her ass under her skirt, which let me say was a short one that was maybe 3 to four inches longer than the bottom of her ass cheeks. Just guessing. When I saw that, I got a little closer and watched her guy feel her up like he didn't care who was seeing. Lucky for me, the place wasn't crowded, and I didn't see anybody in site. Her guy saw me there and knew I was standing there pretty close. Then he reached under her dress and ran his hand up her back exposing her ass completely to me. My cock was so hard now, I had to shift it in my pants. I stepped a little closer to them. Then he said, I'll be right back, I'm gonna look at those other movies. He walked way and left her there with me standing right behind her. To my surprise, she immediately bent over and looked at something on the shelf up close. I said to myself, this has got to be a queue for me that I can touch her. I waited a minute, looking around for people, and she stood back up. I didn't want to blow my chance again, so I stood right next to her and asked if she liked this or that movie the best. She said she thought they were both good, and at that time, I moved my hand over and felt her ass. As I had hoped, she didn't move or say a word. I kept quiet and rubbed around on her ass cheeks, while she stood there and let me. I looked around and her guy was watching from behind probably 30 feet. Now I realized what they wanted. Thats when she bent over and started reading the back of the movies while I was rubbing her ass. So I put my hand on her pussy and stroked her clit a little.
She is bent over and letting me touch her pussy now and I can't believe this is happening and her guy watching the whole thing. She is not saying a word, just letting a complete stranger feel her up. I start to realize I can do maybe whatever I want and she or her guy won't do or say anything. I ran my hand between her legs and stroked her pussy and she just stayed bent over for me. her pussy is wet and I slid a finger inside her lips to see what she did. When I heard a slight moan, I peered around to see if I could see anyone and her guy was the next row behind me watching all this. I figured, what the hell and slid my finger in her pussy. I was really worried about someone seeing us, but couldn't see anyone at all. So I put 2 fingers inside her and started finger fucking her. She must have came instantly because she was dripping juices all over my hand. My cock was so hard, I wanted to pull it out and see what she did, but was too scared I would get caught with it out, and get busted or something, So I stood directly behind her and put both hands around her ass, and pulled her dress up on her back, exposing her to the world, She started moaning like she wanted more. I dry humped her with my hard cock in my jeans once and then slid my fingers back in her wet pussy, and started finging fucked her fast and hard when I saw an old lady coming our way. She was too far to see, but coming this way, so I stopped and the girl stood back up and walked over to her guy. He kissed her and they walked away. I had to see where they were going, so I followed from a distance, watching this fine woman with that short skirt with no panties on walk around the crowded area. They stopped at one point looking at some movies and I gotta tell you, looking at a woman in a public place with a skirt on that you know is naked under and is wet from getting all felt up by a atranger, is a huge turn on. Hiding my hardness was very hard to do. Then they started walking my way and there were people all over. They stopped right next to me and talked about the plants that were there. She assked me if I had any of these movies they were looking at at home. I looked her in the eyes for the first time. And I said no, do you like them? Her guy said we have some we bought in the truck that were really cool and I should see them. I said sure, lets look. I followed them to their vehicle which was a suv and he opened the back tailgate and told her to reach in and get one of the DVDs. We were in the parking lot and they were parked near the back and no one could see. She leaned way over the tailgate with her legs spread wide open, exposing her pussy to me and her guy. he stroked it while I watched and then went around to the drivers door nodding to me to go ahead. I wrapped both arms around her ass and felt around to the front and up to her tits. This couple was cool.
I pushed her skirt up to her back and had my arms wrapped around her feeling all over her tits. She was basically naked. Feeling like I had her guys approval for whatever I wanted to do, I reached down to her knees and felt her body all the way up, rubbing her legs all over and stroking her crotch from the front to the back. I couldn't believe this fine woman was leaning over a tailgate naked for my desire. I had never been put in this position before and was a little scared to let my cock out in public, but I was so hard I did it. Her guy was watching me the whole time standing at the front seat door. When he saw me undo my pants, he came back around and laid 2 condoms on the tailgate, and said she never does it without one and then he stands behind her, pulls his shorts down a little and slid his cock right in while I watched. While he fucked her she reached around and grabbed my cock and started stroking it. My first mmf and it was in a public place outside, but seemed safe enough way out in the back of a parking lot with no one near us. he got his nut prettty quick, pulled out and immediately said, tell him to fuck you baby. She just said, "fuck me". I had that condom unwrapped and on in no time and Wrapped my arms around her again grabbing her really nice natural tits and let my cock go between her legs. Then I let the tip part her lips to see how she reacted and she actually pushed back her ass like she was begging for it. I grabbed her hips and thrusted forward, giving her all I had in one swift motion, and after I had my cock buried inside her, just pushed hard with it all the way in. She was moaning like she loved it, and I started fucking her like there was no more pussy left in the world and it was my last time. I shot my load in less than a minute and left my cock buried in side her for a minute after I did, while rubbing her body from the tits down. As soon as I pulled out and threw the condom on the ground, she grabbed a towel that was laying there and wiped herself between her legs, turned to me and said thank you.
I, barely being able to speak, said, anytime. Her guy said lets go baby and she got in the passenger seat and they drove off. Now my problem is every where I go when I see a woman wearing a skirt anything like the one she was wearing, I wonder if I'm gonna get lucky again, so I follow for a little while to see if I get a show. It has never happened of course, but for any guys in the bay area of California, keep your eyes open for women to show a little ass, because it started with just a tiny bit of ass cheek peeking out of the bottom of a dress and there are obviously couples out there looking for sex for the woman and when they find the right guy to show that follows them showing interest, they reward you very good. I don't know how I let them leave without a contact number or leaving mine at least. Guess I was still in shock and weak from just cumming in a woman I had never seen before. I can't be the only guy this has ever happened to.
*** GIRLS WHO WANT TO SEE
YOUR PENIS !!

1 - REGISTER FOR A FREE ACCOUNT
2 - Confirm Email
3 - Login and Click on Adult Chat Rooms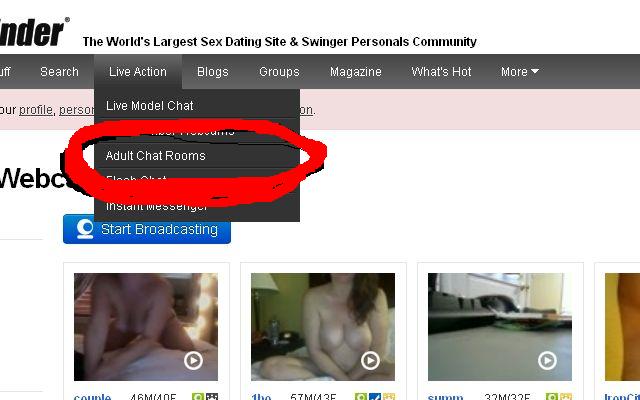 4 - Click on Girls Watching Guys on Cams

Follow instructions to Join group and enjoy!!!!
P.S. You can also click on Live Action - Live Member Webcams for normal sexy chat with couples and singles - Webmaster
OPEN ACCOUNT HERE
© 2004 Truth or Dare Pics