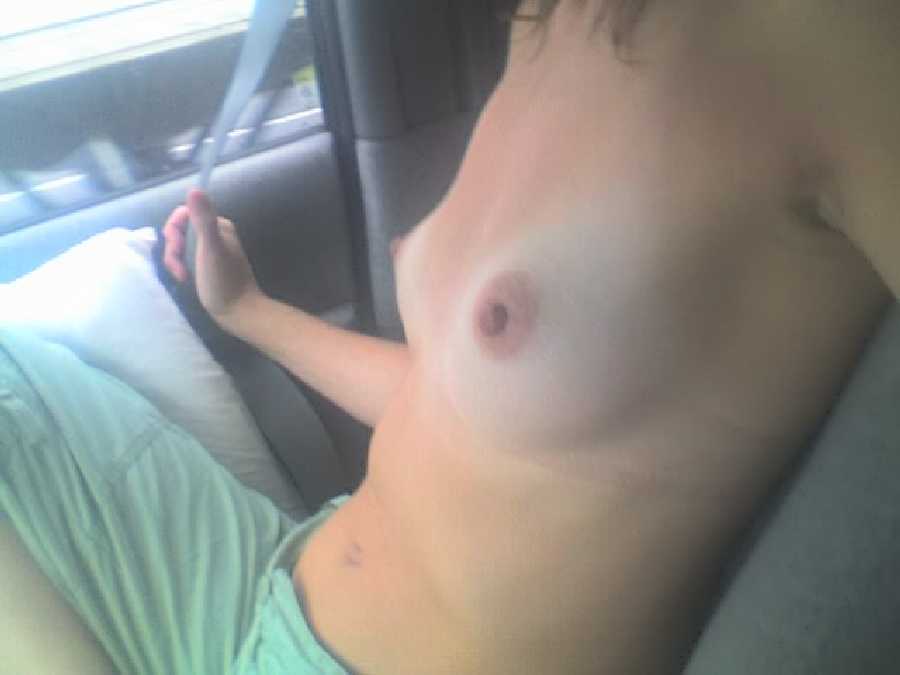 Tequila really does make her clothes fall off!

(Part 1)

By: Jack

When I first started reading these stories, I didn't believe most of them could have really happened. Well, after some recent events that transpired, I would believe almost any of them…

It all started while my wife (Tammy) and I were watching a sitcom. This couple was talking about their fantasies. So, I asked my wife what were some of her fantasies that had never been fulfilled. She described romantic situations, which would bore most of the readers here, so I'll spare you those details. Finally after about an hour, she decides that she should ask me if I have any fantasies that haven't been fulfilled. That was all I needed…

I began to describe the "Shoe Store Dare" and said that it would be really cool to have other guys seeing her body. (That's the one where she puts on a very short skirt and no panties walk into a department store and have a guy help her try on shoes.) She absolutely floored me when she replied: "I would do that for you." OMG! I couldn't believe I actually heard that, and I didn't want to miss the opportunity, so I added the "Pizza Delivery Dare" to it as well. (This is the one where she orders a pizza and "accidentally" drops a towel to show her body that just got out of the shower.) Her only two stipulations to the whole idea was that it couldn't be done in the city where we live, and she would have to have a "few" drinks first. Too many people know us here. Also, she wasn't sure that she could do that kind of thing sober.

The next day, I introduced Tammy to this site and I printed out and we read some of the stories. (Actually, she read the stories while I was driving.) We needed to go to Target, and realized that we needed to go to another Target on the other side of town. (It was about 25 minutes away.) During the ride to the second Target, she continued to read more stories. I could tell that she was starting to get a little turned on from reading these.

When we finished what we needed to do at the second Target, we decided to get a quick dinner at a Mexican Restaurant. It was a Tuesday night, so they were not busy at all. We sat down and she immediately ordered a margarita. As soon as the server left, I said: "How about since you will have that drink in you, you ride back home topless." She said: "No problem." She then got up from her seat and came to my side of the table and sat next to me. She reached over and rubbed the outside of my pants. When she realized that I had a hard-on, she unzipped my pants and pulled my dick out through my boxers and continued to stroke it for a couple of minutes. The server was walking up behind us, so she quit and made sure my shirt covered my lap. We ordered our meals and as soon as the server walked away, my wife pulled up my shirt, bent over in the seat and began to suck my dick right there in the restaurant. (Again, I couldn't believe it!)

I thought I was going to lose it immediately, but was able to gain my composure as Tammy continued to lick the shaft and swirl her tongue around the tip of my (extremely hard) cock. She would only pause occasionally when she thought someone was approaching the table. She kept it up for a few minutes until a family walked in and sat at a table on the other side of the restaurant, but two of them could plainly see our table if they wanted to. When she realized that she could be seen, she quit blowing me, but she would not let me put my dick back in my pants. Every couple of minutes, she would reach over and play with me just long enough to make sure I was hard again.

She ordered another drink, and I said: "We didn't make any agreement as to what you should do for a second one." Tammy quickly replied: "I've already sucked your dick in a restaurant. That sounds fair to me." What could I say? She was right. We finished our meal, and she finished her second margarita, so we left. As soon as we got to the minivan she started taking off her top. Before we got out of the parking lot, she had her bra off too. The parking lot was angled down to the road so any of the cars that passed in front of us (and believe me, there were a lot of them) had a clear view of her boobs.

I should pause and describe my wife. She is in her late thirties, but she has the body of a much younger woman. She is 5'7" and wears a size six. Her breasts are small but VERY sexy and extremely sensitive. (In fact, there is another fantasy of hers which involves her sensitive tits, but I'll save that one for later.) She keeps her "lower half" completely without hair, which I absolutely love. I used to think I was biased about her being sexy until a couple of guys I know had told me that they had pictured her naked (more than once). Also, a few of friends of my daughter have referred to my wife as a MILF quite often. It turns me on to know that my wife is hotter than a lot of women within 15 years of her age. I laugh to myself when other guys look at her "that way" because I think: "Yeah, that's mine and you can't have it!"

…back to the story... We were driving back to the first store because there was something that she wanted at that one, and at first she was covering up whenever we would pass any vehicle that could see her. After a little encouragement, she kept her arms down unless there was a woman in the other vehicle. (She said it turned her on a little to have men see her, but it creeped her out to have another woman seeing her.)

We got to the other store and while there, Tammy wanted to get a pillow for our daughter. The only problem was that the color of the pillow she wanted was only at the OTHER Target. I did not want to drive all the way back across town AGAIN, so I said. "OK, I'll go, but you have to be topless." She didn't hesitate to reply: "OK", then I quickly added: "both ways." I should have pushed for more, because she was all too willing. On the way back to the second store, she was topless and read a couple more stories, and we were both getting turned on. This time, we got a lot closer to the store before she put her bra and shirt back on.

We got what she needed from the second store and we were on our way back home. By this time it was getting dark out, so I turned the reading light on for her side of the van. After a few miles into the return trip, she "kicked it up a notch" as Emeril might say. Tammy undid her pants and in one swift motion, she was completely nude. I was smiling like a kid in a candy store. I was having fun, driving next to truckers, so that they could see her nude body. She was getting more daring by the minute. I sped up a little to catch up with a trucker. As I got the van (of course the passenger side of the van was on the driver's side of the truck) near his window, Tammy laid the seat back, put one hand on a tit, and massaged her clit with the other. She closed her eyes and was obviously enjoying herself. I made sure to stay even with the truck until the traffic began building up behind me. As I sped up to pass him, we heard two quick toots from his air horn. I can only imagine what he was thinking for the rest of his drive.

When we got home that night, she was so wet and turned on from the events of that night; we had the most unbelievable sex; twice within an hour. After 19+ years of marriage, that is a rare occurrence.

I'll write more about our escapades later, that's all for now.

Please send us an e-mail to let us know if we should post the newest adventures...

Reply with comments to jackntammy @ mindless.com


LOCAL SEX CLASSIFIEDS
- HOOKUPS, CHATTING, SEX GAMES & MORE ...



37,000 + TODP MEMBERS ALONE! ..............................CHECK IT OUT

30 MILLION WORLDWIDE ...
© 2004 Truth or Dare Pics