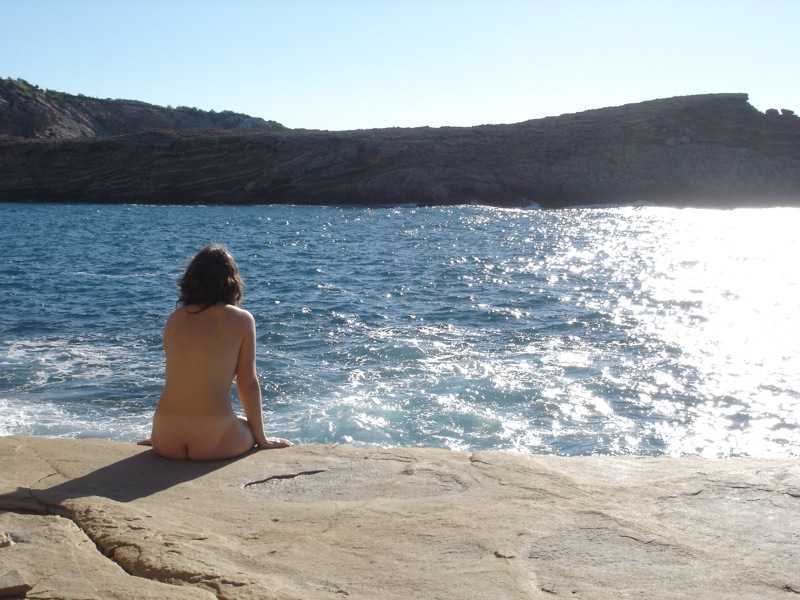 Hi Webmaster,

Well this is a dare story I will have to post anonymous. I have NEVER told it to anyone and the only people that know are the ones that were there that night. Because of this I can't give you any pictures of that night as it would give away too much so instead I have one of my more sensual and artistic pics (meaning nobody can see my face!!).

I was 21...turning 22. My birthday. My boyfriend and I decided to take a trip down to Pensacola for a Sunday and Monday. We leave late Saturday night after work with two other girls and one guy friend.

WE get to the house that we had rented on the bay side, not the ocean side. Barbeque all night, drink, smoke some left handed cigarettes...we are lite to no end. All of us pass out on the living room floor sometime Sunday morning. Everyone starts to stir around 1pm. We fire off the pit...and start drinking and smoking once more. Then someone...not sure who has the bright idea to go to an all nighters bar somewhere over near the Alabama State Line. Can't remember the name of that place, but maybe it will come to me during this story.

Anyway, we get to the bar and it's packed, as it's one of the few establishments allowed at that time in that area to be open on Sundays. They actually stayed open 24/7, cept Christmas Day.

Everyone is doing shots of all kinds of crazy stuff...I am the only one drinking beer (Stroh's Lite, do they even make that anymore?). My boyfriend keeps on me about doing shots...I tell him no...can't handle that shit. Night rocks on, it's the wee hours of the morning and the whole load of us are three sheets to the wind, stoned out of our minds. My bf has made friends with bartender by now and he calls us all over to the bar. We introduce ourselves...yada yada yada.

Bartender says...first round of up side down margaritas are on him for all five of us. I stand there and watch the other four do these up side down thingys and am thinking...hmmmm...that looks like fun. Boyfriend does one more that he pays for then pays for one for me and tells me to get my ass over there and try it. So I say why not, everyone is telling me what a rush and buzz they are getting from this stuff. I turn around (back to the bar), lean my head back where it is almost touching the bar...the way I had watched the others. Bartender tells me to hold my jaws open, I take my fingers one on each side of my mouth...open and pull it like he instructed. He packs ice on either side of my mouth, then I open wider and he pours a shot of tequilla into my mouth. I throw my head forward like the others had done and shake my mouth like a shaker and swallow. Bite the lime...and pow. Oh my what a feeling. After the rush settles, I want another. I wait about 15 minutes and do it again, this time...I an flying, gliding like air. Wait another 15 minutes, want another. My boyfriend said it was my last one (should have said that on the first one, but oh well). I take my third shot.

That's it, I am on the dance floor...the music is filling my soul. I am the Goddess of Pensacola Beach, yes I am! My bf hates to dance but pulls up and chair to watch me. Now mind you, I have taken erotic dance lessons at the local university which we worked nearby and these dance lessons are about to be exhibited. I begin to gyrate to the music in a very seductive manner watching my bf while I do. He is smiling ear to ear so I slide over to him and begin to do a lap dance (which to that point I had NEVER done). I am grinding him and he begins to get erect...I want him...he says later, go dance and picks me up and gives me a gentle shove onto the dance floor. The other two gal friends get out there with me. Shit we are all Goddesses by then. Several more gals we don't know get out there with us. One of the strange girls gets to dancing really nasty, we all follow...but she goes a step further and starts to strip...then another and another. Somewhere this gal (me) got alota brave in her...cause I am now unzipping my blue jean shorts with nothing on under them. All guys remainig in the place have long since cleared the dance floor and are all at full attention. My boyfriend is yelling and clapping, as well as his friend, for me (us) to take it all off. I slide my jean shorts down a bit for my pubic hair to show some and run my hand down em while I dance and feel my breasts through my bikini top. I continue to work my clit and play with my pussy as he and everyone else watch. I am throwing me head back making love to my own body.

I get down on my knees and lay back and begin to move my body and play with my clit and pussy some more...I am dripping wet and reach an orgasm right there and then. I am not sure if anyone knew that's what is going on, but it was.

One of my girl friends grabs my arm and she pulls me over to the pool table at the side of the dance floor...up we both go on top of it. We are bumping and grinding to the beat and playing with our bodies. Still our clothes are on teasing the crowd. I mean that's all I intended to do. However, in the next instant the dj puts on that old Strip song, you know the one, shoot it's from way back in the 50's I think. Oh hell, that song went on, I am loaded with tequilla that's all she wrote. I look at my bf, he is cheering me on and...once again I bump bump bump and grind and my shorts are coming down a bit more, then I hear my bf scream take it all off. I put my hands to the snap on my bikini top and off it comes. I am flinging it all in the air, my bf eyes are popping out cause he can't even believe I did it and he starts toward me. I think he's coming to cheer me some more and I throw my top to him, then go for my shorts...about to drop em. He grabs me throws me over his shoulder and out the back door we go. I am looking back over his shoulder as everyone is booing him with both my hands in the air waving and playing with my boobs for everyone. He keeps slapping my ass to get down and stop. Hell I don't care, I got tequilla and I feel no pain...lol.

He gets me in the car and tells me to wait there, rounds up everyone else, as they come out I am out in the parking lot waving at everyone that will look. Boyfriend gets me back in the car and back to the house we go.

I didn't really remember the whole night cause I was so drunk and some of it was a haze. Kinda like a dream. And when my bf started telling me all that happened, I called him a liar. But my boyfriend later showed me pictures of me on the dance floor that his friend had taken and he had confiscated from him. I really could not believe what I saw, but it was definitely me! Again I splained why I can't show em.

Needless to say, no more tequilla or funky cigarettes for this gal. But I will say it was a night I will never ever forget.

Sincerely - Wildone
LOCAL SEX CLASSIFIEDS
- HOOKUPS, CHATTING, SEX GAMES & MORE ...



37,000 + TODP MEMBERS ALONE! ..............................CHECK IT OUT

30 MILLION WORLDWIDE ...
© 2004 Truth or Dare Pics