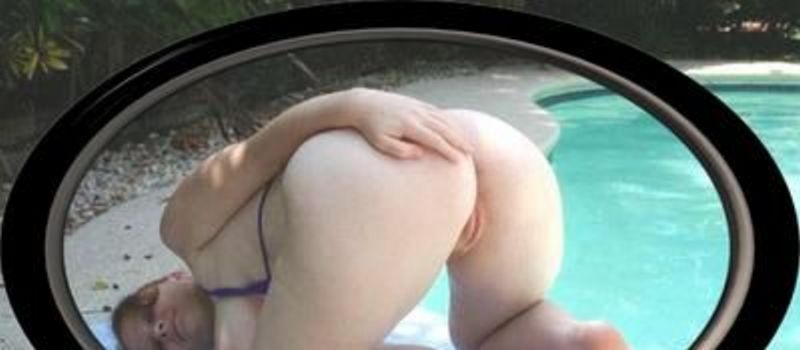 My True Nympho Sex Story II
BY: Kelly Da Brat
He then told me that we better get out of the house so that we don't get caught. I said ok and followed him out of the house, out in the fields and behind a big oak tree where the grass grew very tall. He walked up behind and took the lead. He pulled off my shirt, took off my pants, panties and bra. He just looked at me completely naked for what seemed like 5 minutes. I was helpless and eager and excited and afraid. He then took off his clothes and I remember heaving my breasts way up in a huge sigh. My pussy was dripping wet and my nipples were still hard as rocks. He took one of my breasts in his mouth and played with it and my nipple as he rubbed the other one with his other hand. Then he did something that completely took me off guard. He bit my nipple and I let out a big OUCHhhhhhh...... He backed up and said did that hurt? I laughed and said yes. He took the other one one in his mouth and started playing with it, then nibbled it lightly and I wanted more. I needed more. I asked him to nibble harder and harder until the pain got very strong. I started playing with myself and had the largest and longest orgasm than I had ever had before. My whole body shook and he stopped nibbling and just sat there and watched. It was a really huge turn-on to see him watching me as I shook and quivered from that orgasm. Then he pushed my hand aside and started running his finger into my pussy. I immediately came again. He seemed content to continue, but I told him that I needed more and he layed me down in the grass and climbed on top of me. My little frame was squished as he put his body weight on me, and then he slid his cock alllllllllllll theeeeee wayyyyyyyy innnnnnnn meeeeeeeeeee.
Wow, this was great. I knew he had been having sex with other girls before and now it was my turn. I can't describe the emotions that swamped my mind and body. I started crying and that scared him. He pulled out of me and asked if I wanted him to stop. I cried even harder and almost screamed, NOOOOOOOoooooooooooooo, Pleaseeeeee Don'ttttt Stopppppppppppp, Pleaseeeeeeeeeeeeee!!!!!!!! I was almost hysterical. He was confused, I was confused, but I knew I didn't want it to stop. I told him that I have wanted this for such a long time and am crying because I never thought it would actually happen. He smiled and re-entered me. I grabbed his waist and started pulling him faster, but he kept slowing down. He kissed me on my forehead like a little girl and said, let me make this last for you. After I shoot my load, I will be finished. I understood and left him to his fun. He was sooo very gentle with me like he was teaching me all about sex. I must have climaxed over 20 times and had 3 more large leg shattering orgasms before he finally came. He talked me through everything and I completely trusted him in everything. I felt so lucky to have him as my teacher. He was kind, considerate, gentle and really cared about my satisfaction. Just before he came, he told me that he didn't want to do it in my pussy because that is how babies are made and I knew this but didn't care. He told me that men love to cum into a woman's mouth and have her suck their cocks until the last drop of cum comes out and the cock begins to go soft. I nodded.
I didn't need any prompting and I wanted to please him as much as he pleased me. I took him in as far as I could into my mouth and sucked and moved on his cock as hard and fast as I could. I kept looking up at his face to see what he was feeling and he had threw his head back and lightly groaned as he shot a big load of sperm in my mouth. I gagged, but wouldn't release it for anything. It tasted salty but good and I was determined to be great. I kept looking up at him and he could see me hungrily sucking down all that I could. A little cum started dripping down my chin and I cleaned it off. I kept sucking and moving on it till he was soft and then I started licking his cock, balls and inner thighs. I asked him if I did ok and he smiled and said yes. Then I asked him if he could do it again. He looked at me like I was a bug, then smiled and said maybe. But, you have to get me hard and fuck me this time. I started jerking him off, he pulled my hand away and put it in my mouth. Then he turned me around and went into the "69" position with me and told me to keep sucking his cock. He began licking my pussy lips, clit and slipping his tongue in and out of me. It felt so nice. I had no idea a man could do that with his tongue. I came right in his mouth, but he just kept sucking and licking my pussy and clit. At one point his mouth had sucked on my clit so hard that it stood up all by itself and I was cumming constantly. I started rocking on his mouth and couldn't seem to get enough. His cock was already hard, but I didn't want him to stop.
He turned me around and told me to sit on his cock and ride it. I just said "OK", and happily did as I was told. I thought his cock was big before, but now it went even deeper inside me and kept hitting my spot inside that drove me crazy. I dumped a gush of fluids on his legs and he felt it, I was embarrassed, but never lost a stroke. He ket playing with and fondling my breasts and I just threw my head back content as I felt balanced for the first time in my life. I knew that I was going to need this all the time. I continued to climax and he finally told me that he was cumming again. I got off him and sucked him dry, and cleaned him up with my tongue all around that wonderful cock. I treated it like a lolly-pop and wanted to drain it dry.
When he finished, he got up, put his clothes on and asked me why I wasn't getting dressed. I asked him if he would lay with me for awhile before he goes away. He smiled and layed down next to me. He touched me here and there and I flew my arms back and asked him if we can do this more. He said, sure as long as it remains our secret.
I asked him to squeeze my breasts harder and rub my pussy harder. He then said, you're going to be a real sex monster aren't you? I smiled and rubbed his cock from the outside of his pants. I then asked him to nibble my nipples softly and he complied. Then he started kissing me all over my body and it felt like butterflies all over my skin. I sighed and after about 30 or so minutes, he told me to get dressed and go back to the house. Needless to say, I had a new bounce in my step after that and I owed it all to friend number 1...
At this time in my life, I didn't know what a nymphomaniac was. I just knew that I was always craving sex. If I didn't climax at least several times a day, I was a real jerk to the world. While I was having sex, I enjoyed everything. I felt proud to be the object in of men's desires. I feel content when a man's cock is in my body. I absolutely love the splash of semen deep in my body. There is nothing that compares to the satisfaction I recieve when my body is used to drain all his cum. After my brother's friend, I was relentless in my pursuit of gratification. But, I was still afraid of other boys. Friend number 1 continued to have sex with me whenever we were alone, but it wasn't nearly enough or often enough. After that first time, it was like my sex drive went into hyper-drive. I couldn't think about anything else but sex. My brothers friend's all continued to play with me by wrestling and grabbing my breasts and ass, but now I wanted much more. I continued as normal when there was more than one friend around, but whenever I had one of them alone, I would jump up on their laps and bounce my full "C" cup breasts around. I was no longer just teasing, but a few of them would sure blush and I had no problems with sticking my tits right in their face. I walked in the house one day and friend #2 was sitting down watching TV. I walked into the kitchen and grabbed a glass of water, then walked into the living room and took a drink. I asked him if I could watch something different, he said. "No". I walked behind him and pulled his head back and dribbled some water out of my mouth, inside his shirt. That was it, the fight was on and now he was after me. He chased mr into the kitchen and back into the livingroom. He jumped over the sofa and tackled me to the ground....