Cheerleading Story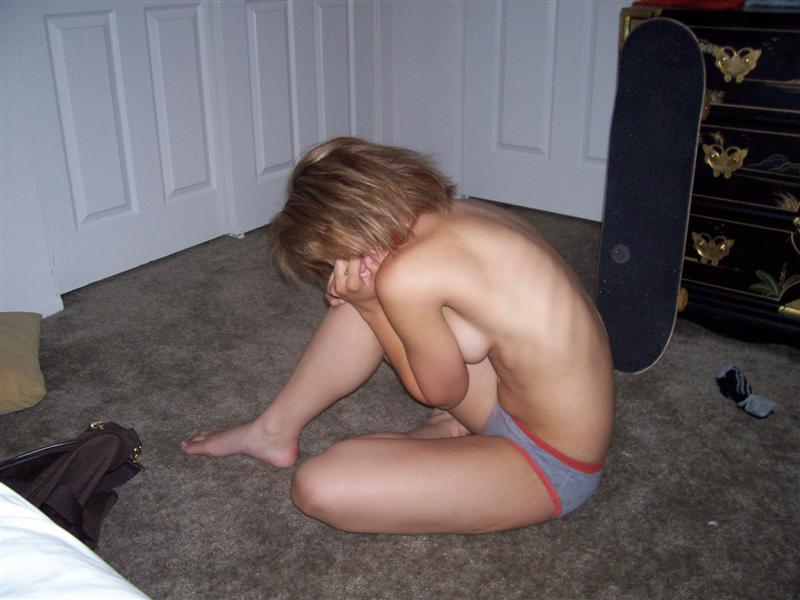 This picture was taken 2 months back by my current boyfriend. It is probably the sexiest one I have that is also non-nude and goes well with my story. Now I am 23 years old but I loved being a cheerleader in high school. I loved doing twirls and kicks and naively thought the men in the stands were appreciative of my talent. When I started cheering in 9th grade freshman football I would watch the men in the stands that were my fathers age (fathers of my girlfriends and classmates) and see them watching me and thought they were watching me because I was such a good cheerleader. They were always smiling at me. I always made sure to keep my panties down over my butt cheeks. I have very full pussy lips and so that first year I made sure to wear two panties to hide them very carefully.
The next year I had blossomed a bit more, and had at least some breasts. They felt strange at first as I jumped and ran around. I felt sexier, now that I was becoming more of a woman, and knew that men were noticing me more. I forgot to keep my little butt cheeks covered one game, and an inch or so of my butt was exposed as I cheered. I discovered it and felt even sexier, a new feeling came over me, and I left it that way. The next week as I was getting dressed I only wore one pair of panties, and I could see the outline of my pussy lips in the material. I felt incredibly sexy, and pulled them down and fingered myself to several huge orgasms before I left for the game.
By senior year I was letting my panties ride up my butt a couple of inches, and noticed that the last couple of years men were taking pictures of me as I jumped and twirled and my skirt would fly up. One of the guys was a bit older, around 40, and at halftime, I asked to see his collection some day. He invited me over the next day, Saturday, and asked if I could wear my uniform and he would take more photos if I wanted him to. I said I would bring it.
I got to his house carrying my uniform in a little bag. We sat down and he offered me a glass of wine. This was so adult and sophisticated, I thought! He said to change into my uniform and he would pour me a glass. I changed and made sure to pull my panties up tight, and exposed about half of my butt. As we sat there, looking at the photos, he would place his hand on my bare leg. The photos we looked at started at my freshman year. We laughed at how skinny and flat I was then. He complimented me on my now "b" cup breasts, and we went on to sophomore year, but he said I had to have a glass of wine for every year.
It was my first wine, and I felt a little numb already. I said OK. In the next photos I saw little bits of my butt cheeks and the vague outline of my pussy lips, but I didn't say anything about that. He was lightly rubbing the inside of my thigh, and I would occasionally press my breast against his arm. It was time for my junior year photos, and I had a third glass of wine. I was feeling very good, very sexy, and this man was quite good looking for his age. When the junior year photos came out I noticed the quality had improved tremendously. He said he bought a new camera that year.
I could clearly see the outline of my pussy lips in some shots. I wondered how many others in town had seen these pictures, or had their own. I began to get very wet thinking of that. I skipped the next glass of wine and he asked if he could take some photos of me. I said, sure, and he took some of my face, my top, and then had me pose a little. Then he had me twirl a little, and I felt the coolness on my pussy of my wet panties. He had a camera that could take lots of sequential photos, so he got great shots of my butt too. He posed me in a chair with my legs spread, and took photos of my wet panties like that.
I could see his hard cock in his pants, and wondered what it looked like. Then he had me lay on the floor on my belly with my skirt up on my butt and took photos of my half-bare butt. he then used his finger and slid it in the bottom of the panty and raised it higher, and then did it again, and again until it was like a thong. I just lay there loving the attention, knowing he was exposing me and taking pictures. As I lay there, half drunk, I told him to take off his pants. I could hear him unbuckle his pants and hear them drop to the floor, then I rolled over and saw a nice hard thick cock, about 7". He told me to get on my hands and knees, and I did, and he sat in a chair and told me to come over and lick it. I did.
He held my hair and taught me how to suck his cock. He talked dirty to me and told me how naughty I had been over the years, exposing myself to everyone, and how he and his friends talked about how hot I was and how he let them look at his pictures and how they all jacked off looking at me. OMG,I was so drenched by now. I had never sucked a cock, or had sex before. He told me to lay on the floor again and spread my legs. I did as I was told and he took pictures of my drenched panties before he removed them, and then he took pictures of my naked, virgin pussy. He asked me if I masterbated, and I lied and said no, and he asked if I had ever had my pussy licked, and I told the truth and said no, and he knelt before me and touched my clit with his tongue, and I almost came instantly. He swirled his tounge all around and I came and came and came.
Then he put a towel under me and slowly entered me. I still had my cheer sweater on, and he slowly fucked me while holding himself up and looking down at my tits jiggling under my sweater. It didn't take long and he filled me with his cum..... he grunted and groaned and came. I could feel his thick cock throbbing and it made me cum again. He collapsed on me and we rested, and then I decided to suck him again. He got hard very quickly and this time I took off my sweater and let his suck my tits. Again very soon we were fucking, and I had the most wonderful day of my life up to that time. Every Saturday I would come over and we would fuck and he would take photos of me. I knew he was sharing them with his friends, but I didn't care, I only wanted to keep fucking him, and if that's what he liked, and it surely was what I liked, I let him. My boyfriend absolutely loves this story and I get horny telling it. He always asks me to tell it while we are in bed and we both cum really hard when I do. - Amanda
LOCAL SEX CLASSIFIEDS
- HOOKUPS, CHATTING, SEX GAMES & MORE ...



37,000 + TODP MEMBERS ALONE! ..............................CHECK IT OUT

30 MILLION WORLDWIDE ...
© 2004 Truth or Dare Pics