My Hot Teacher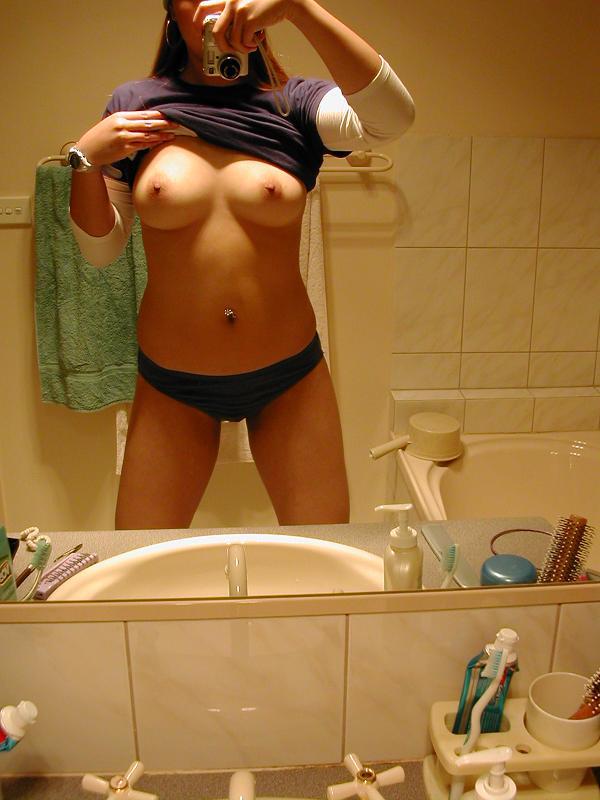 I am recently single and not used to dry spells from sex and have gotten quite horny. Your site has been great at giving me an outlet for release and some courage to share as well. So, first off here is the required pic of me in my bathroom and I thought I would share a story with all of you hope you enjoy.
I had moved off the college campus after my junior year because they were going to renovate my dorm over the summer. As my senior year was finally drawing near I took some time away from my crappy job to drive back to the university book store to pickup my books for the semester.
While in the book store I ran into my Psychology teacher from the past year. We got to small talking about what we had been doing all summer and things like that. After several interruptions of my classmates saying hi and students of his past year saying hi, he offered to buy me lunch so we could continue our chat.
He caught my eye from the first day of class because I sat right in front. Throughout the year I stared at his huge package bulging out from his pants. I had tried to get his attention by dangling my shoes off my toes, crossing my legs frequently. Staying after class to ask questions I already new the answers too. He never acknowledged my legs or my flirting gestures I gave. He did always make eye contact with me, but he did with everyone else as well so I figured by the end of the year I was just one of several hundred students he would teach during his career. When the year ended he was all but forgotten until he appeared in the book store.
Lunch was just more small chat, but I had mentioned that I had moved off campus and that I had no one to help me move the larger items back nor could I afford at the time to hire anyone. Not that I was expecting him help, but the next thing that came out of his mouth was that he had a pickup truck and he would be glad to help. I had a huge grin appear on my face that I was really fighting to keep from becoming a hysterical laugh of joy.
That same weekend he showed up around noon to help. I had already taken everything but a few items that I could not pickup on my own to the dorm. It had to be around ninety degrees out and as normal for that time of year hot and humid as well. He had on shorts a t-shirt and tennis shoes. He was already sweating from the walk in from the parking lot. His shirt fit nice and tight around the arms, which I had not seen hiding behind his dress shirts.
I had been thinking about him sense we had lunch earlier in the week. I wanted to give him something to think about while we were moving my stuff so I put on a white tank top, no bra, a short black valley school girl type skirt, no panties and open toed half inch heels. Not your typical dress for moving but he said nothing when he arrived. We moved a dresser a chest and a few boxes I could not pickup. He then followed me to the dorm and we started unloading.
On the drive over I was thinking how I could seduce him with out making it obvious just incase he was not interested. I couldnít, all I could think of was hot steamy sex, jumping on him and fucking his brains out, so I guess I would just have to wing it.
We moved everything in and he was planning on leaving right away before he was seen in the dorm and nasty rumours starting flying about him dating a student. To keep him from leaving right away I offered him a bottle of water from the mini fridge. He was really hot so he was happy to see the water and sat on the big over sized chair to chug it down. I sat on the bed in front of him. I slipped off my shoes and kind of leaned forward so my shirt would open a bit while I too enjoyed a cold drink. I asked him if there was anything I do for him in return for helping and of course he said no.
I knew my time was slipping away quickly so I got up stripped the tank off over my head and moved towards him. I wrapped my legs around his and sat on his lap, moved forward and kiss him. He responded to me so the kissing got a lot more passionate and wet. It took just a few minutes before I could not take any more of the kissing as I could feel his huge cock under me. I got off his lap knelt down in front of him unzipped his pants and pulled them down around his balls. His cock was enormous and not even erect yet. He had to be about seven inches. I picked up his cock and wrapped my mouth around it. He swelled very quickly, but I sucked down as much of his cock as I could. I could taste the semen leaking out and it turned me on that much more. I was getting so wet that I could feel my juices running down my leg.
I did not want to stop sucking that beautiful cock, he could have unloaded in my mouth right then and there and I think I would have been satisfied. But I did stop, got up dropped my skirt as he removed his shorts and shirt. I lowered my pussy over his cock and I could feel every inch enter me. I quivered with goose bumps and large brick hard nipples. He grabbed both breasts and took turns sucking each nipple. I was bouncing around on his cock and got so into it that I grabbed his head and buried his face deep into my chest; I think he could have suffocated but I didnít care. I have never been on top of a guy before and fucked that hard, I truly was doing the fucking. I felt a wave of quivers come across my entire body as I unleashed a very intense orgasm. It was such a relief to cum that I had to physically and emotionally regain my bearings. As I slowed down, he was still rock hard. I got off his lap, my legs literally shaking and got back on my knees. I started stroking his cock getting ready to start sucking him until he unloaded in my mouth but he exploded just as I was bending down. Most of his hot cum landed in his lap and on my hands. I did catch a bit on my lips which tasted like candy to me. I cleaned his cock with my mouth until he started to loose his hard on.
He thank me and I thanked him for moving. He then cleaned off and went home. I never did see him again but it was the start to a very good senior year and one I will not forget. - Tricia
LOCAL SEX CLASSIFIEDS
- HOOKUPS, CHATTING, SEX GAMES & MORE ...



37,000 + TODP MEMBERS ALONE! ..............................CHECK IT OUT

30 MILLION WORLDWIDE ...
© 2004 Truth or Dare Pics