Naked In The Pool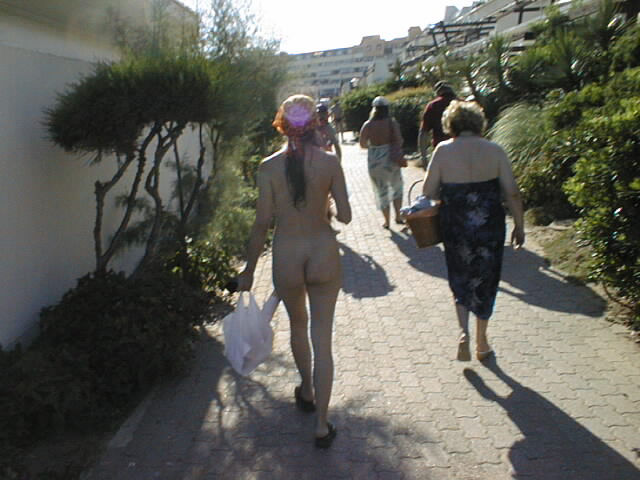 I travel with my husband on a periodic basis. We were staying at a residence inn last night in Columbus, Ohio. There was one of these events last night, and we elected to stay in Columbus with two of the other couples from my husband's work. We all probably had to much drink, and driving home at that point in time even though it's only two hours it would not have been a good thing.
We had not planned on staying at the hotel therefore I did not really bring extra clothes. My husband always has extra T-shirts that have the company logo on that they give away. the couples that we were with didn't really know about my wild side. When we got to the hotel last night we went down to around the pool area and were all sitting outside talking about the evening party that we just came from. I was wearing a dress, the other two women were wearing dress pants and dress blouses. The guys were also dressed up. Three of us women decided to put our feet in the water of the hot tub. I actually was standing on first step and had pulled my dress up almost to the point of showing my panties. I was making comments how great the water felt, and told the other two women I was thinking about taking my dress off and getting into the hot tub in my panties and bra. husband and the other two guys were within earshot, and one of the guys dared me. I pulled my dress over my head and got into the hot tub in just my panties and bra. The guys were encouraging the other women to do the same but they would not. Finally I got out of the hot tub, the guys and women both were staring at me as I had to walk around in my panties and bra, as I could not put my dress back on over my wet panties and bra. We said our goodbyes for the evening, and I walked back to our hotel room in just my panties and bra.
In the morning, my panties and bra were still damp, but we were supposed to meet the other couples have for breakfast in the morning and we were eating in the hotel. I put on a long T-shirt rather than the dress, and my husband and I went down to breakfast. The T-shirt is white. We were eating breakfast outside by the pool, and my husband told the other couples we knew I was naked under the shirt. Everyone else was wearing dress clothes that they had worn the night before. I realize that the shirt barely covered my ass, I was so engaged in a conversation, that I pretty much forgot about how I was dressed. There were a number of other guys and several women that were outside. I was standing up, and we were looking at an article that was in the newspaper and the paper was spread out on the table. I basically was leaning forward looking at the article. One the women went to get something, and when she came back out she realized that the others around the pool had a good view of my naked ass. She announced to the group that my ass was on display and I was being stared at. I then stood up and pulled my shirt down, and look behind me and saw there were probably at least six people that saw my ass.
Somehow there was a suggestion made to throw me in the pool. I thought they were kidding, but the other people that were around the pool thought it was a great idea when they realized that I probably didn't take them seriously.
One of the guys was holding my arms, and my husband had one leg , and the other guy had the other leg. Not only were they getting ready to throw me in the pool, my husband and the other guy holding my other leg were doing a pretty good job of keeping me spread. The only thing covering me was the shirt. Then after pretending they were going to throw me into the pool, the guys put me down but were still holding on to me. Clearly there was disappointment by some of the guys that were nearby. One of the wives teasingly announced the to the group about auctioning off my shirt and throwing me into the pool naked. She was standing in front of me, and the guys were holding my arms. She turned me around so my back was facing the majority of the people around the pool are, and the guys pulled my arms over my head. I knew this caused the bottom of my shirt to be pulled up, and probably my ass was partially visible. Than she started pulling up my shirt and had pulled it up above my waist, and people were saying take it off her.
Then she pulled my shirt back down, and turned me so I was facing the group that had now gathered. my hands were at my side, but than the guys took them and put them over my head again. The group wanted my shirt off, and she threatened to pull my shirt up to show my pussy, which I am sure they had gotten a view of my pussy. She then turned me around with my back facing, although now there were people on all sides watching. Again my hands were raised over my head and she pulled up my shirt to below my breasts, and then bent me over at the waist. Then she pulled up the shirt and I was tossed into the pool naked. I walked back to the hotel room naked, half upset and half turned on at the same time. Luckily my husband got a nice picture of my backside as I did. - Georgia
TINY TIPS ...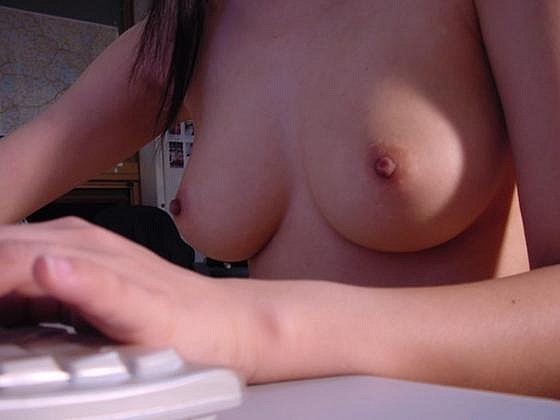 MAKE HER CUM FOR PENNIES...

CHOOSE YOUR OPPONENT ...

Girls looking to have some fun and make a few bucks in the process ...





© 2004 Truth or Dare Pics