Butt Flash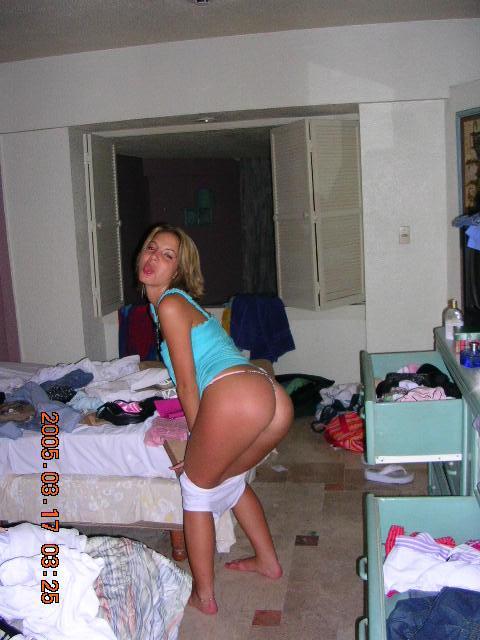 Traveled with my husband to Boston last year. We stayed at this one hotel, that was loaded with guys that were staying extended stay for a construction project at some factory. On friday night we decided to take a dip in the pool after dinner, and I had my string bikini that barely covers anything, and also a little more conservative bikini that is too large. There were a lot of guys around the barbecue near the pool just drinking beer and partying that were construction workers. I toyed with wearing the string bikini and showing off, but we were also at the hotel with one of my husband's co-workers who did not know my reputation, and figured maybe I better opt for the tamer route.
The conservative suit is light green, and very visible both in the water and out. It's almost florescent. I was the only female and there had to be at least a dozen or so guys,and my husband's co-worker and my husband.
The guys were staring at my bikini as nonchallant as they could, and I noticed that I was also interesting my husband's co-worker. I went into the pool and was just lounging around, and quickly realized that my suit was a lot looser than I thought when it was wet. I decided to swim the lenth of the pool and pushed off from the one side. As I pushed off my bottom began to slide down and I knew my butt was partly displayed. I continued swimming and without pulling it back on got to the other side and pushed off from there. the bottom slide down even further and was making swiming difficult. I got to the other side and pulled it back up and realized there were quite a few guys that were watching very intently. I got out of the pool via the ladder, and decided I was going to dive in. As I came up the ladder I knew the bottom of my bikini was sliding down. When I got out of the pool my ass was facing the majority of the guys, and literally was down more than half way. I pulled it up and proceeded to go to the deep end of the pool. The guys were staring and laughing. I then realized that my right breast was completely exposed as my top which was strapless had also came down unbeknownst to me, as I was more focused on loosing my bottoms.
I pulled my top back up and prepard to dive into the pool. My bottom was already sliding down as I prepared to dive in. I dove in and sure enough the bottoms slid down fast and were at my ankles, by the time I came up for air. My top also came loose and was not even on me anymore. The guys were cheering and laughing. When I got back to my husband, he just smiled and said "did you have fun?" . Later on that day when we were in the room, he said, "damn, I should have taken a picture!". So I said, "take a picture of this" and pulled my shorts down to give him a butt flash. And now you can put it on your site. - Karen
© 2004 Truth or Dare Pics