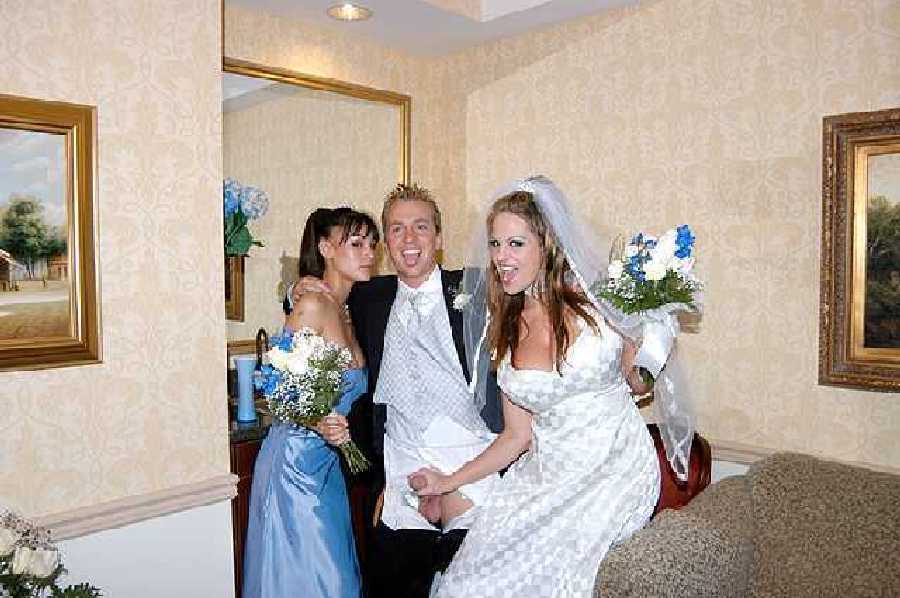 My husband loves to push me sexually and make me do all sorts of things that are not easy to do. This one time he made me flash the car next to us on our way to dinner at a nice restaurant. I didn't want to do it as I was too nervous and scared but he kept pushing me to so I did. I tried to look displeased but was kinda turned-on inside. So when our wedding came he kept telling me about all the things he was gonna make me do etc...
Well I decided to turn the tables on him. After the wedding reception we were all having fun with just me him and a few of our friends left over. We decided to take some more pics and just beforehand I started rubbing his cock under the table. He looked at me with a quizzical look on his face and seemed out of control for the first time. I whispered dirty things in his ear which made him really hard! Then I abruptly stopped and said let's take some more pictures! I got up and so did everyone else and he had no choice but to follow. Everyone stared! And laughed! So I called over my best friend and bridesmaid and we posed. She was kinda uncomfortable and he was too. I said "hold on, we can't have a pic like this" and I unzipped his pants and took out his cock! Everyone erupted into laugter and at least 3 other people started snapping pics like crazy. This one was from our camera. He looks like he is really into it but I know my man, he was trembling not knowing what to do. Now he knows how it feels ...
Samantha
PLAYING A REAL GAME
The Dare Videos are a small homemade operation. Like myself, the guy who makes them LOVES truth or dare and has a hobby website for it. He gets participants locally by placing ads in the 'personals' section of the local shopper, asking girls to play truth or dare with other girls. All players are over 18 and do this for fun. No pros!


© 2004-2016 Truth or Dare Pics - Terms - Contact