| | |
| --- | --- |
| NUDE IN PUBLIC | |
Spring Break Bahamas Style - PART III
BY: Central Jill
It felt so good to have my clothes back. I never realized how the littlest activity is magnified to horrible when you have to do it naked. Everything seems to move in slow motion and everybody wants to watch you do it. Never the less I made it through two more dares and I am one step closer to getting my revenge on Erica. Nothing is going to keep me from completing my mission. I have been working on a plan in my mind ever sense this game has started. Just the thought of what is she going to have to do is enough to keep me moving forward. I have already come up with a fool proof plan to make sure she goes through with it also. More details on that later. Anyways that is enough rambling about that.
Erica and I went back to our room and got cleaned up and ready for supper. We had all planned on meeting up at the restaurant around 8:00 PM for dinner. This restaurant was just about a ten-minute walk from our resort. It was a cute little place on the beach with an outdoor patio. We met up with everyone and ordered our food. In the back of my mind I was wondering what my next dare would be but I definitely was not going to bring that subject up because nobody had said anything about it yet. Maybe the novelty of seeing me naked was starting to wear off. I could only hope. The rest of dinner went by fairly smooth. I was very hungry because I had not eaten much at all today so everything tasted good.
When dinner was about over the group announced that it was time to start my next dare (Dare 4). I told them I to was too tired and that they had already worked me to hard today on the previous two dares but that did not seem to faze them at all. I knew right then that I was in trouble because of the smile on all of their faces. They were all grinning so hard I think that their ears were getting wet. I waited patiently for my outcome. Then it hit me. They told me that they were all pretty hard on me today so they thought that they would make this dare a little easier. Easier for them maybe but they are not the ones who always end up getting naked in front of everyone. Anyways they proceeded to tell me that I would have to take off all of my clothes again and hand them over for the duration of the evening. What exactly are your plans for the duration of the evening I asked? They did not want to go into specifics that told me to just hand everything over. I was not to crazy about stripping in the middle of this restaurant but there were a few other people in there wearing only bikinis and that logic seemed to make sense at the time. I slowly started to remove my clothes.
Every time I have to do something like this my stomach just turns to knots. I felt like I wanted to cry but the only thing keeping me going was Erica and the laugh she had on here face again. I knew that I would be the one laughing soon and I couldnít wait. I stood up next to our table and started to remove my clothes one piece at a time. The shirt and shorts are always easy to remove but I had a real hard time with everything else. It didnít take long for the surrounding tables to realize what I was doing and turn to watch the show. As I unhooked the clasp on my bra and handed it over reality definitely set in. I could feel my face turning red. The guys at the surrounding tables in fact most of the restaurant started to chant ďtake it off, take it all offĒ. This was not helping. All of the chanting made me feel cheap and I wanted to stop but I couldnít. I was already in to deep to back out now so I reach down and pulled my panties off as fast as I could. There I was naked again in broad daylight in a public place. All thanks to Erica.
I quickly sat down at our table and worked on my drink. The commotion in the restaurant started to settle down once I was sitting down and out of view. We all sat around the table drinking and laughing for the next couple of hours. Surprising enough I was actually having fun. The only bad part was when ever I had to go to the bathroom I would have to walk across the entire place to get to the restroom. This dare was actually not that bad because the only time people could see most of me was when I got up and used the restroom so I remained seated as much as possible. Finally around 10:00PM we decided that it was time to head back to the resort. After the long day of drinking and partying everyone in our group was having a hard time walking a straight line. On the walk back to the resort I must have tripped and fell at least 4 times. None of us were seeing too straight at all in fact I am surprised that we could find our way back at all. I think that it was all of that island rum we were drinking all day that had finally taken its toll on us. Everything seemed incredibly funny tonight. No matter what was said or what happened we could not stop laughing. At one point I had to bend over to fix my shoe and then I saw a flash. Not one of my better poses but I thought that you would still enjoy it never the less.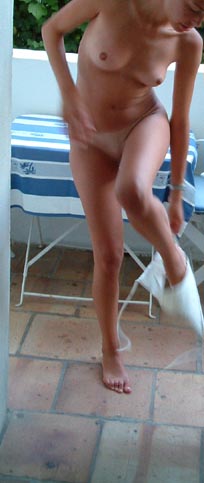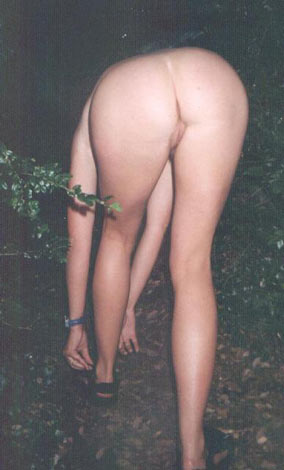 About 45 minutes later we strolled into the resort and headed to the outdoor courtyard/bar. I made a grand appearance. I stepped into the bar area tripped on a stool and fell flat on my ass. My naked ass that is. Right in the middle of the crowded bar. What a scene. Everybody now knew I had arrived and they all also knew that I was naked. I guess at this point of the day I had been through so much without any clothes on that I just figured lets make the best of this and have fun. I headed right out to the dance floor and started to get wild. If you can remember from some of my pervious stories I have a little tendency to get loud and wild when I get really drunk and this was probably the drunkest that I had been in a long time. Probably since my New Years Adventure. I instantly became the life of the party. I danced with anybody who asked me. I never said NO to anyone the rest of the night. Surprisingly enough even though I didnít have my purse or any money on me I never had my glass run dry. Every guy in the place was lining up to buy me a drink. Life was good. I really donít remember much more of the evening. I know that we stayed up until daylight. About 5:30 AM Erica and I wandered back to our room and fell asleep.
The next morning my head hurt so bad that I wished that I could just die right there in my bed. Well I didnít die but sometime after 2:00PM we finally got out of bed and got cleaned up. Apparently Erica had made plans to go out with everyone again for supper and it was time to head out. That is all for today. I will continue this adventure for you in a day or two. Check back soon.
centraljill AT yahoo.com
So Embarrassed ... She Turns Red

*** An introvert. VERY shy and sensitive, easily embarrassed, this losing girl accepts bets for consequences she can barely tolerate psychologically. Her way of letting off steam.
SEE ALL OF THIS VIDEO NOW



What's happening?? ...




"She Lost - While playing she had second thoughts and desperately tried to win."




"I won - Not only did she pay up but I put her on display, AND played with her emotions, exposing her more."




THERE ARE 100 MORE GIRLS LIKE THEM
















Loser Must Masturbate for the Other 2 ...




Their First Time Playing Strip High Card ...





Loser has to Submit to 'Anything' the other wants ...





CLICK HERE FOR ALL EPISODES
© 2004 Truth or Dare Pics