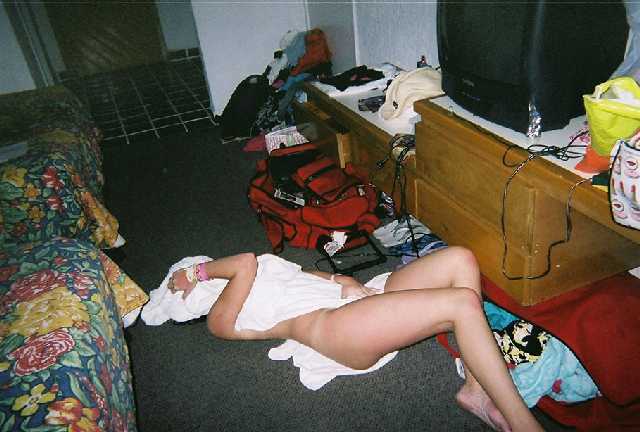 Wife Caught Naked Outside
BY: Larry And Sabrina
Larry - When this happened to us, we just HAD to let someone know but we couldn't tell anyone we really know.
Sabrina - My husband has been nagging me for the last few months about our sex life. About how I am not as spontaneous anymore and adventurous etc. So I decided to surprise him one day when he came back from work. So, it was 6:30 and I knew he'd be home any minute now. I took off all my clothes and waited by the door with it slightly open. When I heard the car pull up I got into position. I opened the door wide so I could be in full view when he came in. I positioned myself on my hands and knees doggie style so that my ass would be the first thing he sees when he comes in. Then he'd get horny immediately and jump me. Thing is, I heard him approach but I also thought I heard voices?
Larry - She heard right. My co-worker Linda came home with me that day to pick up some forms I had forgotten to bring in to work that morning and I told her to wait inside with me while I got them. We walked up the walkway and up the steps and then...
Sabrina - and then my mouth dropped right open! I could hear 2 voices clearly now and froze like a deer caught in headlights with a surge of anxiety knotting my stomach. I heard a gasp...
Larry - We got to the top of the steps and my jaw dropped, Linda gasped covering her mouth and my wife didn't move a muscle. She was frozen in place.
Sabrina - I was caught naked and hadn't had time to react. I froze with my eyes shut 'tightly' hoping they would just go away and not knowing what to do. God this was humiliating!
Larry - I looked over at linda who was still looking at my wife's bare ass and even her pussy was in plain view. Then we looked a each other 'extremely' uncomfortable and she smailed and said, I'll drop by tomorrow. Then as she walked away she yelled "bye Sabrina!" ...
Sabrina - I heard her say bye and still froze. I wasn't moving t'ill Larry was in and the door closed.
Larry - I came in and closed the door asap! I couldn't believe what just happened!! I was stunned and turned on at the same time. I just stood there and said, "honey?"
Sabrina - I turned around and just looked a him waiting for a reaction. When he finally smiled I started shaking and giggling nervously and couldn't stop. My plan backfired in a big way! He came over and gave me a hug and whispered in my ear...
Larry - I told her I was surprised but also extremely turned on that she was naked in front of my co-worker. She didn't say anything. Then I started to feel her up and her pussy was soaked!!! I started to rub it and she came almost immediately. I was hard as a rock and she saw it so she took me into the bedroom and spread her legs. I entered her and exploded in almost the same amount of time as she did.
Sabrina - After he came he went to get the camera and said we have to record this somehow. I tried to hide and ended up on the floor with a towel over my face and he took it. We talked about it some more that night ad had sex 2 more times. I couldn't believe how turned on we both were. I had so many emotions running through my mind when I was caught. Would he be mad? What would Linda think? etc...
Since then we have had sex everyday this week talking about this incident and decided to surf the net for a appropriate site/outlet to share this with as we can't exactly tell our family and friends.
Larry And Sabrina
LOCAL SEX CLASSIFIEDS
- HOOKUPS, CHATTING, SEX GAMES & MORE ...



37,000 + TODP MEMBERS ALONE! ..............................CHECK IT OUT

30 MILLION WORLDWIDE ...
© 2004 Truth or Dare Pics