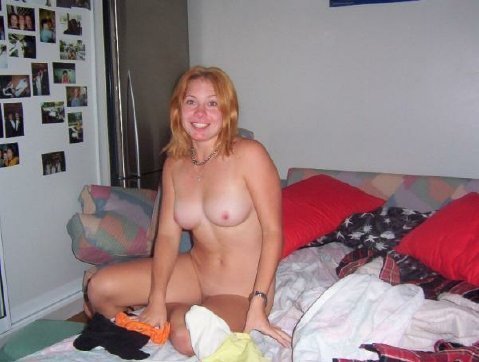 Our True College Sex Story
BY: Denis & Clarice
I was dating the girl who is now my wife while in college, about 8 years ago. She shared a house with 5 other girls. They were all on the colleges club soccer team and were in a 3 bedroom house together their junior year. (2 girls sharing each bedroom). So at the time they were all very comfortable with each other. They wouldn't think twice about crossing the house naked, bottomless, or topless, . They wouldn't necessarily sit around the house that way, but going from a room to the shower, or to the washer and dryer in the basement nude wasn't uncommon. They had been close friends throughout college, and played on the club soccer team together, so weren't very reserved around each other. This alone would get me excited. My wife said it stemmed from one time early their freshman year, they were drinking in their dorms and decided to compare bare breasts. She said it was a great turn on, not really in a sexual manner, but more so in an exhibitionist, freedom manner, or something like that.
Nevertheless, the girls would always keep their sex antics behind closed doors. 4 of the 6 had boyfriends, and 1 of the single girls had a somewhat regular fuck buddy. Up until this point, any sex would usually be conducted when the room/house was free. Well the girls apparently would talk about their guys, how big he was, how long he lasted, how he was in bed, what he looked like naked, same ol girl talk I assume. Well curiosity, as well as their openness took over. They wanted a peak at what each girl was sleeping with.
So one day, I'm in my wife's room with her. I had slept over and was waiting for her roomate to leave to go to class. She had class at 1, but left around 12 to meet someone from lunch. Thank God I thought. Wasting no time, i pulled my wife's pants right off and went down on her. Uncharacteristically of her, she pulls my head up strips me down, hops off her bed, bends over and instructs me to do her doggystyle. No problem. So I'm standing their naked in her room going at it, while she's in a short tank top taking it doggystyle, when all of a sudden, we hear a quick knock immediately followed by the door opening. Thanks for the warning I thought. It was my girfriends roomate, who apparently had forgotten a book the my wife had borrowed. The roomate expressed suprisal as she turned to face the her desk. My wife tells her don't worry about it, gets off, gets the book from under the bed,says "here ya go" tosses it onto her roomates bed, which forces her to walk out out and get it. If she didn't already she now gets a grand view of me hard as a rock. My girlfriend walks her out into the hall, either oblivious to the fact she was bottomless, or indifferent about it. She walks back in, and gets right back into position from where we left off. I was amazed, but so horny from being seen that I almost came right away. For awhile my wife claimed it was an accident, until a few weeks later I was told that I was set up, and her roomate Sue wanted to get a look at me. I felt used, but strangely good about it. I also found out I wasn't the only one.
I didn't think much of it the first time I got caught, but got seen one more time which caused me to be curious......The night of her club soccer banquet, We were at a Marriot hotel, and had gotten 2 rooms there for the 6 girls and their dates. At around 11 pm, 2 hour before the party ended, my wife urges me to the room for a quick fuck. She took me upstairs, unzipped anddropped my pants and started going down on me. About 3 minutes later, in her short black dress she just dropped her panties to the floor and and told me it was my turn as she lay spread eagle on the bed. Not more than 10 seconds after she orgams, the door flyes open and there are 2 of her plastered roomates with dates "looking for cigarettes" Meanwhile both me and my wife are showing everything, so I stand up, already giving them a full show and pull my pants right up. My wife nevertheless is just laying their ina drunken euphoria. I cover her up as the 4 of the others head out of the room with what they were looking for.
After a little prying, I found out the girls had set this up so the boyfriends could be checked out and measured up by eye whenever possible. Apparently the girls were getting more daring with their sex (more often around the house, and doors never locked anymore) So they could be caught. The amount of times a guy got caught might be exagerated by me a little, but it was still enough. The girls were fine with it, until this point when it almost turned into a little war. Apparently the 2 girls were a little annoyed with my wife just laying their and showing off her pussy to their dates. That they called off the daring from that point on. Here is a pic that I took after one of our sessions from her room.
Denis & Clarice
LOCAL SEX CLASSIFIEDS
- HOOKUPS, CHATTING, SEX GAMES & MORE ...



37,000 + TODP MEMBERS ALONE! ..............................CHECK IT OUT

30 MILLION WORLDWIDE ...
© 2004 Truth or Dare Pics