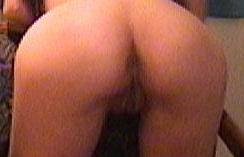 Bare Back Bike
A Dare Report By: Holly
Well, first off I guess I should thank you all for the many dare ideas Each of them gave me, in nothing else, a hot fantasy to play with in my mind. Plus it is always nice to know that some of you still enjoy hearing what I am up to and giving me naughty things to do.
Oz dared me to first get a Brazilian wax. For those of you who don't know that that means… They wax all your hair downstairs. I mean ALL… no matter where they might find it. It requires you be rather fully exposed to a total stranger while they apply wax to your most private parts and then rip the hair out of you.
The results are very nice I must say. I am so damn smooth, I don't know how I never tried this before. Then I remember… oh yea… it was fucking embarrassing as hell. I couldn't even look at the woman who did it. I just kept looking at the ceiling and trying not to think about it… which was too damn hard to do. I must have been blushing the whole time.
Well, now bare as can be down below I was to move on to the next part of Oz's dare which was to… ummmm… well use some kitchen items to… well… pleasure myself. Sadly I didn't have any thing that would be really great for that kind of thing. I mean… what would you have me use?
I wanted to go to the store and since there is one just about 2 blocks away I thought I would take my bike down there to get a few things. This got me thinking of another dare I was given. Steve had the idea for me to wear a white T-shirt and no bra while I rode in the rain. And it does seem to rain here from time to time. LOL But, the day of my ride it was sunny.
Now what would be the point of wearing a white T-shirt and no bra if I was not going to get it wet and give all the lucky boys who saw a show? Well, after picking out my smallest T-shirt… which is very tight as well. I got my water bottle and filled it up. I hooked it onto my bike and headed to the store.
Dressed in my tight biker shorts, which really show off my ass… and other things since I didn't wear any panties as well. (I know that was not part of any dare, but it was something I thought would be hot to do. I hope that is ok with all of you. LOL) My tight little white T-shirt and tight little black spandex shorts didn't hide much as it was. I couldn't help but wonder who would be seeing my show.
I had made it to the store without too much of a problem. A few heads turned… that made me feel pretty good. Once at the store I started to shop for the "Items" I needed. Which brings me to the next topic of discussion. What items should I get? I asked myself this before I ever left the house. I mean… are we talking cucumbers here?
I looked around not sure what to get. I mean there are a lot of things… that might work… but lets be realistic. I am only human. LOL I ended up picking out a carrot… A small carrot. LOL I kept looking around to see what I could find. Yes, I did look at the Popsicles and sticks of pepperoni, but figured that maybe it would be best to stick to something a little less messy.
Call me a vegetarian, but I did end up getting the cliché cucumber. I mean… really what else is there. Wait… I am sure all of you can think of things you would love to sick… well… LOL Anyway… I went up to the check out and paid for the two items. They guy at the counter looked at me strange as I bought them. For a minute I thought… is there a chance he could be one of you. He seemed to know what I was going to do with them. Maybe I was just imagining it or reading too much into it, but it did seem to me that his smile said… I know you will be spread eagle with that cucumber lodged in your pussy by the end of the day. It is an odd look to see on a guys face. LOL
I got back on my bike, but to finish the next part of my dare I would have to get my T-shirt wet. Since Mother Nature was not helping out know I would have to make it happen. Being a veteran of many a dare… I have learned to roll with the punches. So, I unscrewed my water bottle as I drank let most of the water roll down my chin… down my neck… and then all over my chest.
It really didn't do a bad job. I could have gotten more water on my nipples, but it was ok. Most of it was in my cleavage, but it did draw more attention to my tits, which was kind of the point. Then I started my bike ride back to my place. Then I got a wicked idea.
Now, it was midday. Bright, sunny, and many people were out. But, I was getting really horny thinking of what I had done, and what I would be doing once I made it back to my place. And as you all know… the more horny I get… the less my brain functions. LOL
I decided to find a way to ride if nothing more then a minute or two totally bare ass naked. The street was out of the question. It was busy and I didn't want a cop to ride by and see me. That would not be cool. So, thought maybe the alley would be perfect. There is a nice one that runs a street down from where I live. I cold run down… strip and ride the alley.
Well, I got to the alley and realized that there really was not that much cover. I pulled up next to a garage and got off my bike. All I had to do was strip totally naked… hope on the bike… and ride down the alley. Well, easier said then down. As soon as I started to pull my shirt off over my head the garage door I was standing in front of started to open.
I quickly pulled my shirt back down and acted like I was just checking my bike's tires. Then I rode down the alley some more. I stopped again and got ready to pull my shirt off again. This time I got it up over my face and heard some kids yelling. I didn't hear what they said, but the shirt went back down quick. I quickly got back on the bike. I could see this was not going to work at all.
I rode to about the half waypoint of the alley and looked around. Then I was like… screw it… I am going to at least strip and sit on the bike. If nothing else I was going to get naked for a second or two. So, I hopped off and then jerked my shirt off over my head and then wiggled out of my tight shorts. They were just a little two tight.
I couldn't get them off over my shoes. There I am tits out… ass catching some rays… as I stand on one leg trying to get my shorts off over my shoe. I managed to get my shoe stuck in my shorts when I heard a car coming down the alley… I looked around and then figured I should just hop for cover.
Don't try this at home. I started to hop and fell face long into a pile to garbage. As the car went by I doubt they saw… but they could have. There I was bent over a pile of garbage bags… ass in the air… legs forming a figure 4 since my foot was lodged in my shorts. I had to be giving a nice spread shot to any who could see.
"Hey! Looks some one threw away a perfectly good piece of ass!" was what I heard in my head… but luckily not in coming from my ears. Just my over active imagination, working over time as usual.
As I got up bare assed and red faced I finally had my shorts off and hopped on my bike. The seat is black and had gotten a little hot in the sunlight as I battled my shorts. As I swung my leg over my bike and onto my seat… I could feel the heat on my most naughty parts.
I started to peddle… but it was just too much. I only made it a few houses. My tits bouncing… my pussy sliding on my seat… If I continued I would be losing total control right there in the alley. I didn't want to get off right there on my bike seat. I hopped off and got my shorts and shirt back on.
The rest of the ride home was a rough one. I was now so wet, I was sure it would be evident if I had to get off my bike and walk. Lucky for me I only had to walk into my place… and no one saw.
I was more the ready to use Oz "Kitchen Items" now! As much as it is embarrassing to say… I have to admit that it was one hell of an orgasm using that carrot with my tight bike shorts around my ankles. I am biting my lip right now as I type this report up for you. I really pushed myself and it was almost too hot for me.
I don't think bike rides, or carrots will ever be the same to me again. I am sure after this… most of you will never look at me the same again. LOL I hope that is not a bad thing. LOL I am so bad.
Well hope you enjoyed the report of these combined dares. I have to day the combined dares made it easy to do something I was told to do, and still have a lot of say over how to do it. Which is what I like. But, I don't think I need to get this wild. Could be hazardous to my health… or the health of helpless vegetables. LOL
Awkward Moment ...

*** The winning girlfriend, became quiet and unhappy (later on in full vid) watching her BF and the loser have fun ... he even made her cum.
FULL VIDEO CAN BE SEEN HERE



What's happening?? ...




"I Won - I get to sit out with the other winner and watch the loser receive her consequence."




"I Lost - I must now take both of the winner's boyfriends in front of them. One in the pussy and the other in the mouth :("




REAL GIRLS (NO PROS), LOSING BETS,
















Loser Must Masturbate for the Other 2 ...




Their First Time Playing Strip High Card ...





Loser has to Submit to 'Anything' the other wants ...





CLICK HERE - OVER 100 FULL EPISODES

© 2004 Truth or Dare Pics