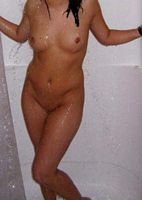 Skinny Dipping
By: Holly
**Well, I am getting to know my neighbors a little. Which is so kind of me. LOL. The guy that lives next to me has a pool that over looks the same highway my house does. But, when you look out and see a highway, having a pool in the middle of your view helps a lot. Well, he is really pretty nice. His name is Jim and he has lived in SF most of his life he said. His wife left him for their pool boy... or so he says. He is 56 years old and may not be in the best shape, but is really nice. He told me any time I want to use the pool I can. Which is really awesome. It is more of a lap pool. You can't really dive in, but still to just swim and float will be cool. Plus the decking he has around it is nice to lay out. He might be a bit of a pervert, since he kept saying I could skinny dip if I like and all. But, hey... free use of a pool... can't beat that. The old lady who lives on the other side is always into everyone's business. She told me her name. I think Ellen or Ima or something. She is nice enough, but is alway going to stay with her kids. So, she tells me to watch her place. She keeps the outside lights on about all day... it is like daylight out around her place all night. No one behind me this time. Not frat boys... LOL but there are two young guys that live across from me. They are room mates. Maybe gay. They really didn't say. I have only talked to them once. I can't remember their names. Which I hate since now I will have to try to find out before that comes up. Guess I can ask one of the other neighbors.
Around 5:30 today my neighbor left his house after seeing me working in the yard. He said to feel free to cool off in the pool and the left. It didn't take me long to make my way to the backyard to his pool.
I was not sure where he was going, or when he would come back. I did know that he was gone for at least a few minutes and he had given me the ok to use his pool. My swim would not have to take long, but I knew it was going to be a thrill no matter what.
Once in the back yard I looked around to see if there was any chance of being seen. None of my neighbors were in sight, and the highway was really not that busy. LOL I was ready to do it… ready to skinny dip in my neighbor's pool… in the middle of the day. I had a white t-shirt, and navy blue shorts on. Under that I had on my bra, and panties. Nothing that exciting… just the basic whites. LOL But, hey… I was doing yard work most of the day. Well, after I got off work that is.
I was so tired after work that I really didn't want to do the yard work, but it really needed done. By the time I was offered the free dip… I was plenty hot and sweaty. I also didn't mind the opportunity to get out of working on my yard. I can be so lazy. LOL
After making sure the coast was clear I pulled my shorts down. My T-shirt still covered most important parts. LOL My panties clad butt cheeks were peaking out the bottom of the shirt. They were not panty covered for very long though. LOL I pulled my panties down next.
Then waded into the pool sill in my shirt and bra. Once in to my waist I pulled my shirt off, and tossed it onto my pile of clothes. My bra soon followed and I was totally stark naked in the neighbor's pool. I quickly dipped my nipples below the water… something always have to do when the water is a little too cold. I would guess the water temperature was around 75 to 80. it was a bit chilly compared to the heat of the day. But, it did feel good on my tired body.
The thrill of being naked… out in public where some one could see… where anyone could walk right up… where passing cars could see me naked, if I got out of the water… It was all so invigorating. I could feel chills from the cool water shoot through my body, or were they chills of excitement? I couldn't tell, but I felt so alive at that moment. I swam a quick lap, and my nerves were starting to get the better of me. I tried to make myself relax, but the thought of being caught started to over take me. In my fantasy I was so brave. I got out and sunned my naked body. Warming myself in the sunlight. Feeling the cool breeze play with my nipples. But, that was fantasy. I could be caught. What would I say if I was?
I decided I had cooled down enough and reached for my shirt. Wouldn't you know it… my shirt was just far enough I had to pull myself out of the pool and reach for it. What a view I must have been giving the birds sitting on the power lines. LOL With my ass in the air, I nearly dragged my tits on the patio around the pool. LOL Once my shirt was in my hand I pulled it back into the pool with me. You ever try to put on a wet t-shirt? Well, let me tell you it ain't all that easy. I couldn't get the damn thing on without a good fight. Imagine seeing that… a naked girl… in the pool… getting her ass kicked by a t-shirt. LOL I finally got it on and then climbed out of the pool.
I gathered my things quickly. The shirt now hung over my private parts… dripping… water down my bare legs. But, the water made it easier to see other parts of my body. Hey, it was a WET T-SHIRT for goodness sake! My hard nipples projecting from my now second skin only served to make me even more horny. A few of you wrote that I should pleasure myself right here next to the pool. Believe me I wanted to… but cooler heads… or tits… prevailed. I headed to my own yard before I was exposed to anyone besides the imagined viewers in my own head.
I was now very wet… and not just because I was in the pool. So, for the next few minutes… while I lay on my bed waiting for my hair to dry… I made sure other parts didn't dry out all that much. LOL
Needless to say… I WILL BE DOING THIS AGAIN! At some point in the future I am sure to take another dip in the neighbor's pool. Maybe next time it will be more then just a dip. LOL
Hope you enjoyed my dare report as much as I enjoyed doing it… and writing it up.
*** Couple Ads - Getting Her Laid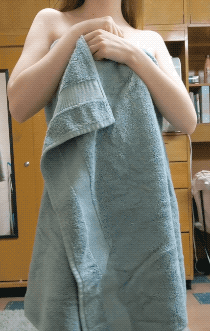 - Couples post ads seeking men or women.

- She plays ... he watches.

- All listed by state and city.

JOIN HERE

© 2004 Truth or Dare Pics