Imagine You Get A - Strip Dare Birthday.

- ...She's Not A Pro, She's DARED!
- ... It's an Amateur Stripper
- ... Actually it's a Friend!


My girlfriend Jamie and her roommate John's birthday are only two days apart. So it was decided that we were going to throw a a birthday party for the both of them. This wasn't going to be some lame, calm social gathering, this was going to be a rocking party. Lots of good food and drink (BYOB on the drink of course), and everyone that attended would be required to drink up! Well, it sounded good but as it sometimes happens the party didn't really get going the way we wanted it to. It was ok, I mean people were drinkin' and there were some good tunes playin' and everyone was relaxed and having fun. But it wasn't good enough as I wanted to make it a 'fun' party for my girlfriend especially. Something that she could remember that 'I' gave her. Well, I had seen your site, and was trying to remember all the stories I had read on it scanning for ideas to liven this up? And so.... I suggested that we get a stripper! All the guys hollered and the girls just laughed. My girlfriend looked at me and said, "aren't there enough cute girls here for ya?" .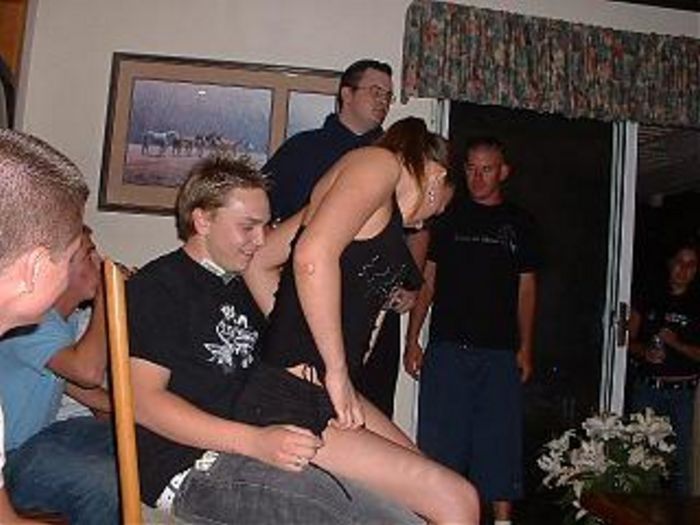 All the guys said, "ohhhhhhhh" as if I'd just been burned. Not to be outdone I said, "well then I DARE one of you to do it! And the one who does gets open bar access to EVERYBODY'S booze for the rest of the night!" So then the girls jump up and all start to "mock-strip" for fun. They start dancing sexy around the guys as if they will strip but then sit down again. All except Gina. She keeps dancing. Everyone started cheering her on and the combination of the alcohol and peer pressure kept her going until she reached the point of no return!!! Gina's always been the wild one of the group and is the least shy so it wasn't that surprising that she was still up there dancing. Cell phones and videos came out asap and you can see the first pics of Gina giving a lap dance to John, the birthday boy.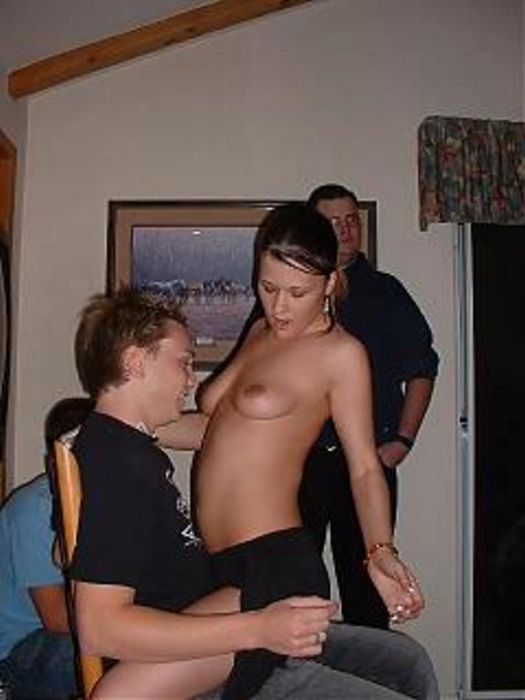 As she got more and more into it people started chanting, "Take it off! Take it off!" and soon everyone was saying that. So Gina looks at us and starts to pull her shirt up a bit showing us her sexy stomach and then smailes and pulls it back down again. But we all chanted ,"Take it off!!" louder and louder trying almost to pull it off with our chanting! So she pulls her shirt up again and this time pulls it ALL THE WAY off and onto the floor. Everyone went nuts and started cheering and applauding her! I know birthday John liked it!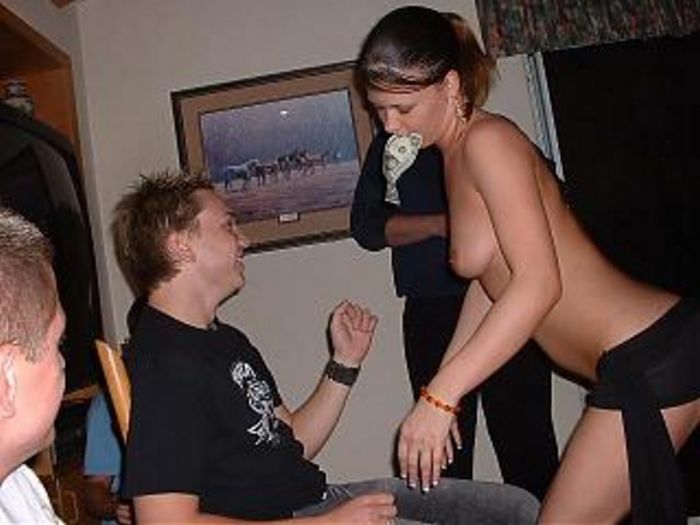 Although John was loving it he was also a bit embarrassed as he didn't know quite how to react to it. After all, he was now in the spotlight too! So I guess he pulled out a few bills to be funny, but nobody cared.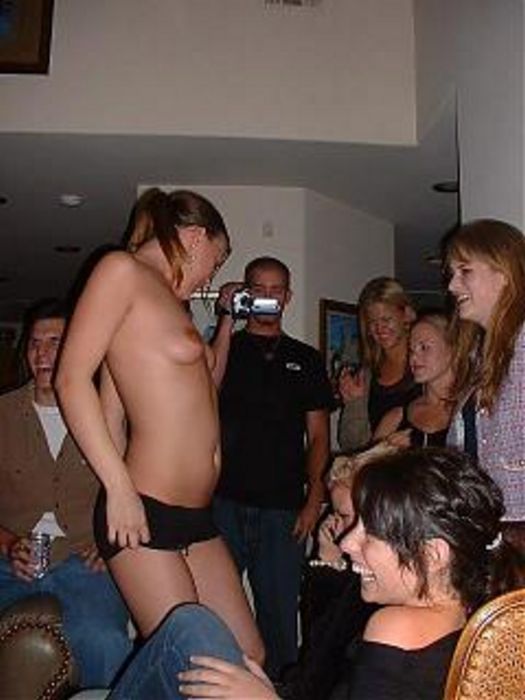 Here's Gina now in the middle of the room working the crowd. Even the girls loved it and were having a blast!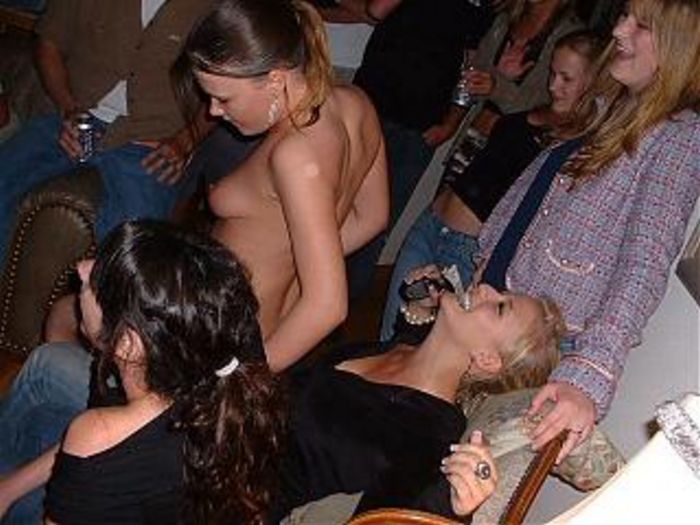 This is where it got good. I mean REAL good! Because it was also my girlfriend's birthday (Jamie), Gina decided to dance for her too "to be fair" as she put it. It got the crowd going, me instantly hard and Jaime extremely embarassed as she has never had a girl strip for her before.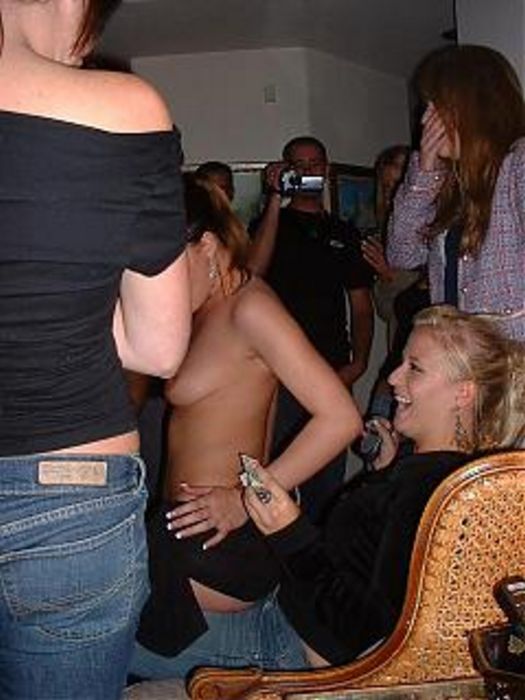 Here Jamie follows John's suit and pulls out some cash $ .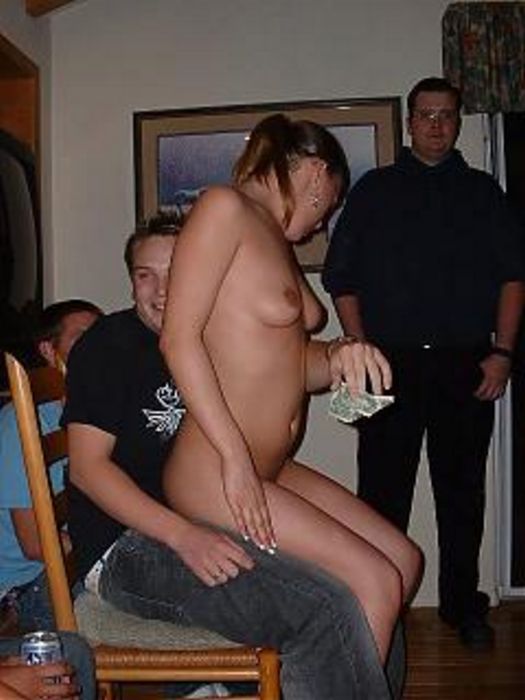 After taking the cash Gina again danced in front of the room topless for awhile not knowing exactly where to go from here and then the guys quickly chimed in , "Lose it all!, Lose it all!" - meaning take off her bottom shorts - and within seconds we all were chanting it. Without missing a beat she put her hands to her hips/shorts and looked a us teasingly as if to say, "is this what you guys mean?" and again we chanted, "Lose it all!" and right then she SLOWLY SLOWLY pulled them down stripper-style until they were off and joining the top somewhere on the floor. At this everyone was hollering like werewolves, "wooooo-hooo" etc... And then she went back to John for another lapdance.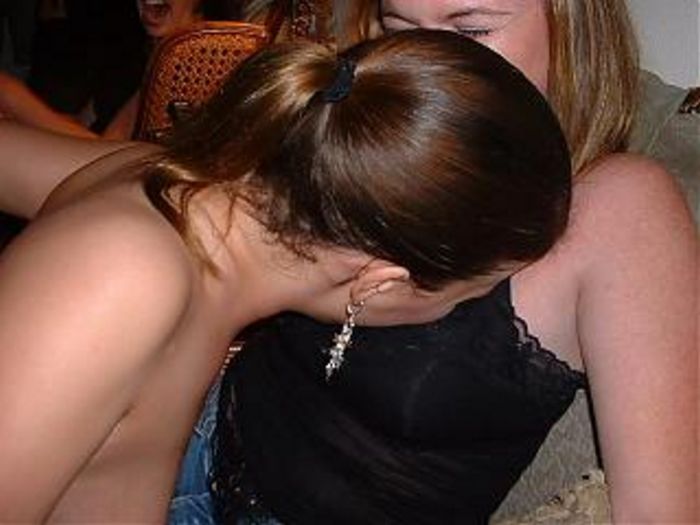 After rubbing herself erotic style on John for a few minutes the guys wanted to see her strip for the girls again as it really is something else to watch girls strip for girls. So Gina started for Jamie totally naked but Jamie jumped up out of her seat and hid behind somebody. She was too embarrassed so the pointed to Heather who was on the couch beside Jamie and Gina walked over to her and made her turn bright red! She not only danced for her but also started licking her top part of her boobs which made all the guys in that room drool. I could swear you could smell the testosterone in the air!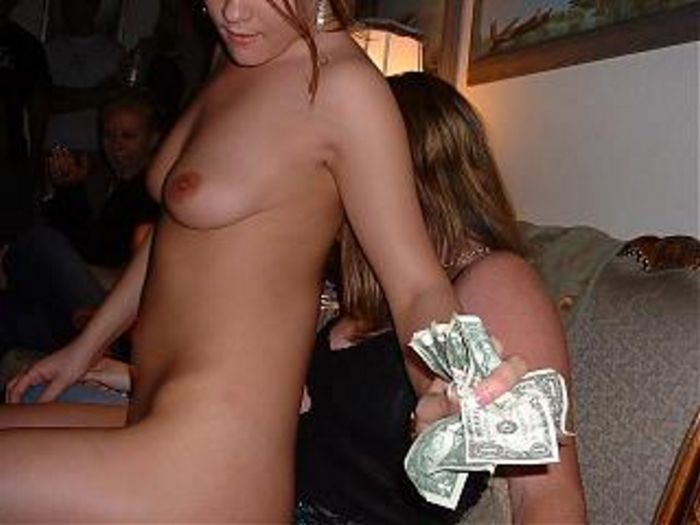 Then Gina turned around and gave her a conventional style lap dance.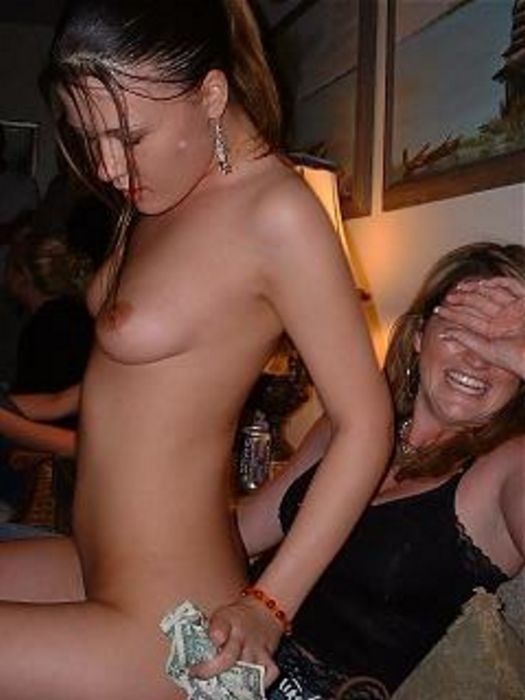 Here is another picture of Heather who did not expect this at all getting a lap dance from her naked friend. Priceless!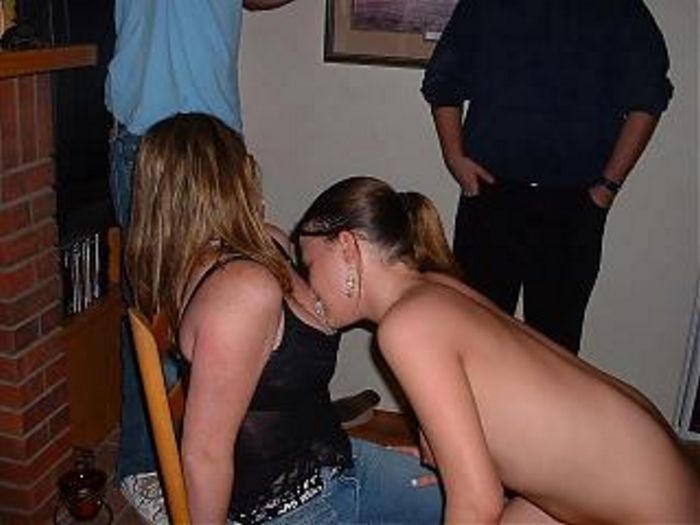 The guys were absolutely loving this moment! One of them (Brad) pulled out a chair, pulled Heather off the couch and onto the chair and asked Gina to continue so we could see from all angles.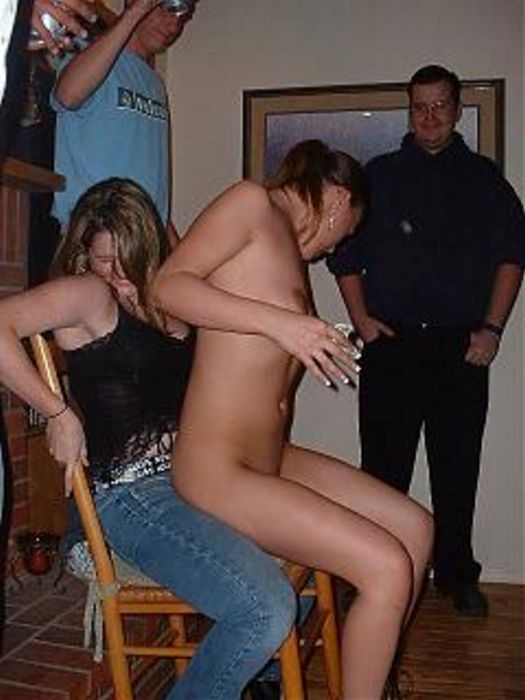 The guys never stopped cheering Gina on to dance for Heather and she is shown here grinding her beautiful ass into Heather's crotch which is REALLY REALLY making Heather uncomfortable (grin).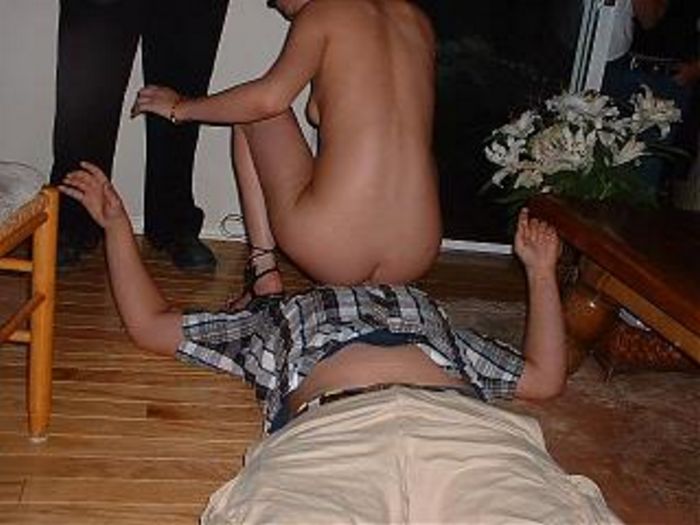 Here I am...well my body anyway, the lucky host!!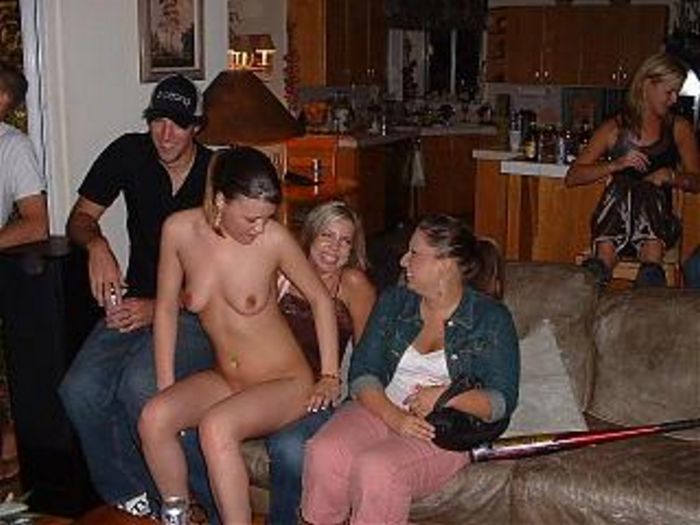 Last picture from the strip dare. Wow! All that from a suggestion. Please post this on your site. We all are waiting to see it!!
LOCAL SEX CLASSIFIEDS
- HOOKUPS, CHATTING, SEX GAMES & MORE ...



37,000 + TODP MEMBERS ALONE! ..............................CHECK IT OUT

30 MILLION WORLDWIDE ...
© 2004 Truth or Dare Pics