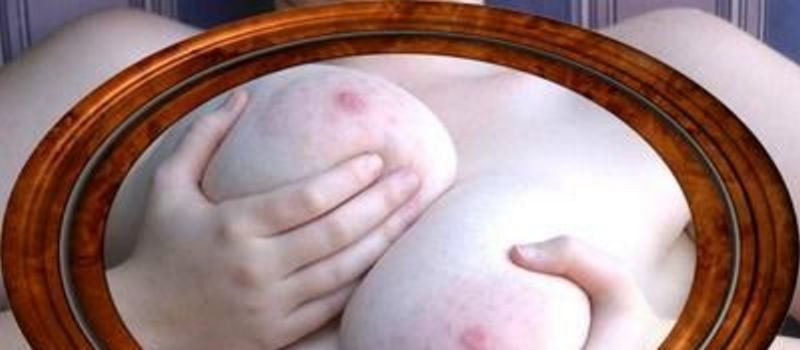 My True Nympho Sex Story III
BY: Kelly Da Brat
I was wearing a mini skirt, a white tank-top and panties, but no bra. He picked up my glass of water and poured it on my chest. My nipples were hard and standing straight up against the thin cotton material. The tank top by itself was revealing enough, but now that it was wet, he could see the exact shape and contour of my breasts, nipples and the areola. I was under his weight, he had my arms pinned to the ground and was semi laying on my body with his legs holding my legs in place. He stared at my tits for about a minute. Then he looked at me and saw me smiling. He went to get off me and I grabbed his shirt from the back and tried to get him down as if I wanted revenge for being tackled. Then I gave him a titty twister. He looked at me and said you think you can get away with that just because your a girl? I grabbed his other nipple and twisted it, then he grabbed both mine and twisted them. They hurt, but nothing like my pussy was hurting at that moment. He kept squeezing them, but not too hard and said I bet your big ole' titties hurt a lot more than mine do. I completely relaxed under him and then looked at him and he was very excited. He had released the grip on my nipples and I got up and wriggled out of his grasp. He hung onto my tank top in the middle of my tits and as I pulled away, both my tits popped out of the tank top as the thin cotton just ripped. I just stood there and looked at him with my tits hanging in front of me and said you did that on purpose. He smiled and nodded yes. Then I asked him if he ripped it just so he could see my tits? He just kept looking and said they sure are big. I bounced them up and down for his pleasure and he just stood there as if he had never seen a pair this big. I started thinking that maybe he hasn't. I bent over a bit so they would hang down more and let them swing back and forth. I asked him if he wanted to hold them, he reached out without saying a word and put his hands under them and then started sucking each one back and forth. I wanted to make sure he knew this met with my approval, so I moaned lightly and whispered more please as he sucked them and put my hand on the back of his head each time he went to pull away.
When he stopped, I lunged at him and grabbed his cock. I managed to unzip his fly and reach my hand in there. He wasn't wearing underwear, so I grabbed it and squeezed. I was very surprised that it was already hard and very large. Then he grabbed me & slipped his hand under my skirt and panties and grabbed my pussy. I could feel his finger go inside as we jostled around. He took his other hand and put it on my exposed breasts. But he wasn't pinching the this time, he was fondling and caressing them. I relaxed my hold on his cock, but wouldn't let go. He slipped 2 of his fingers inside my pussy and looked at me again. I lightly bit my lower lip as if in ecstasy. Then I reached upwards with my head and kissed him on the cheek. I stroked his cock a few times, then pulled it out and said, "Can we go someplace private? He nodded, so I ran upstairs and put a new top on. I walked over to him, pressed my breast against him and said, You lead, I'll follow.
He grabbed my hand and walked about 10 minutes with me out behind and old abandoned house with a shed behind it. He opened the shed and then grabbed some old straw and made a little bed out of it. I stood up straight, asked him what I should do and he told me to take off my clothes. I completely stripped and then helped him take off his clothes. He looked at my body for a couple of minutes like I was a piece of meat that needed to be examined before he bought it. He walked up to me and kissed me lightly on the lips and grabbed my breast and pussy. I did everything I could to show my interest. I sighed when he played with my breast, opened my legs wider to let him insert his fingers in my pussy and moaned lightly as he rubbed my clit. His slow motions were toture, I wanted to have that cock ramming my pussy hard, but I continued to respond with pleasure with each touch and caress. I knew I needed him more than he needed me. Then he pushed me onto the straw, climbed on top of me and started fucking the shit out of me. He came so fast, but luckily I pulled away when I felt his cock swelling up inside me and he came on my belly. I didn't have time to climax. Then he started to get up and I said WAIT, is that it? He said yes and I said, give me more. Then I grabbed his cock and sucked it hard again. He got hard fast and I realized he wasn't having any sex with anyone else. Then I laid him down and got up on top of him. I pulled his hands to my breasts and used his fingers to squeeze them. I took my hands away and he kept up the motions. I moved up and down on that cock slowly and I was determined to make it last as long as I could. Everytime his cock would begin to swell inside me, I would stop, but leave his cock inside and just start kissing and licking his chest and arms with my mouth. I would move my breasts to his mouth and have them sucked by him, and then start rocking his rocking slowly again. I asked him if I was doing a good job and he smiled. This time he lasted for another 45 minutes and just before he came, I took him into my mouth and sucked it completely dry. I saw him jumping up and down as I licked and gently sucked each ball and his inner thigh, plus the flesh around his cock and balls.
The more he bumbed, shivered and jumped, the more I kept it up. I figured it was all over, but then he got hard again. He threw me down this time, pinned my arms against the ground and threw my legs up on his shoulders. My pussy was standing straight out and shoved his cock in me DEEP. He was literally fucking me like a freight train and had me pinned so that I couldn't move a single inch. I was helpless and loving every minute of it. Then he slapped my ass, then slapped it again and again until it was red, then slapped my tits. I don't mean nice easy slaps either, he made a loud crack when he landed them, but i didn't care and started cumming very hard. Before he was done, I was climaxing every 30 seconds for about 45 seconds. It came in waves of pleasure. Then he swelled up and pulled out, grabbed me by the hair and shoved his cock in my mouth forcefully. His load was very small, but he rammed his cock clear down my throat and all i could do was gulp and gag. The more I fought him, the farther he shoved it down my throat. That damb cock was as big around as a cucumber. I relaxed, he finished, then he looked straight at me as i was still gagging and said, "If you act like a slut, I'll fuck you like a slut". I looked at the ground and said yes sir. Then he said are you sorry now? I stopped to think for a second, if I say yes, then he might never do this again. So, I said, "No", I am not sorry. I loved everything you did to me and I want you to keep doing it. Then a few tears fell down my cheek, I looked at him as my eyes began to turn all red, puffy and swelling and said, it felt wonderful to have you take control of me and I don't ever want you to stop. He looked at me, fondled my breasts, patted my pussy and said ok, I think I understand. I said thank you. Then we both got dressed and separately went back to the house.
I continued for another month with Friends # 1 & 2. I was always willing and eager. I started thinking about waht friend # 2 had told me about other boys taking advantage of me if I teased them. I remember practicing a walk in the mirror. I quit wearing pants altogether and I only bought tight fitting blouses that hugged my breasts. At school, I wore a bra and blouse. The blouses always matched the bras in color, but were tight fitting. I tried to wear nothing but thongs and short dresses at school, because I never wanted to pass an opportunity up. I was still plain looking and my father didn't allow me to wear make-up, so I just worked with what I had. I was no longer homely looking. I found that if I smiled and acted outgoing all the time, people wanted to be around me. So, I did. Eventually it was perfectly natural and became the norm.
I would walk up to a boy with my little bounce. My breasts would be doing their little tit dance and would draw attention. Then I would press them aginst him and tell him whatever I thought he needed to hear. I could look straight into a boy's eyes and not even see him. Every boy was another chance to quench my sexual appetite. I was treading on dangerous ground because I didn't want a reputation as a slut. I turned my eye towards boys that were much less popular or liked. By the time I was 19 years old, I was having regular sex at least once a day. I found myself leaving 90 minutes before school started for sex down by the Wash. The Wash was what we called this old dried up Riverbed about a half mile from the school. His name escapes me, but I remember that he was always there waiting for me. He wasn't a great lover, but he had a very attractive cock that had a slight bend to it. It was about 7 inches long and fit perfectly into my pussy. He always came quickly and sometimes inside my pussy. The first time he exploded inside, I gasped from fear, but grabbed his waist and just rubbing my clit into his pubic hair. I absolutely loved the splash of cum inside my pussy. I smiled at him and told him that his cum was warm made me feel good. I was very worried about getting pregnant and asked him to buy rubbers. He agreed. Then I spoke to some of my girlfriends and they told me their mom's put them on the pill to regulate their periods. That was all I needed to hear. I talked to my dad and we went to the doctor the next day. Now I felt safe. At age 19, my breasts were plump and firm and had grown to size double "D". I was having sex 2 and 3 times a day, but it still wasn't enough. I would have sex down at the wash in the morning, sometimes I would meet a boy up at the ag. farm and I took rides from lots of different boys after school, with a short stop-over before they took me home. Once home, I would go for a walk every day for a secret rendevous with a boy or one of my friends. I now had 3 of my friends having regular sex with me. I especially loved sex with them because they knew me and taught me everything I knew. I became a submissive to friend # 2 and he understood that I was an unsatiable nympho.