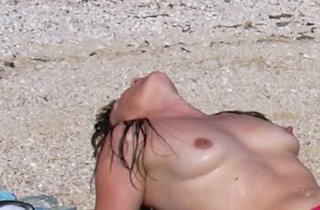 Hello all,
John here, Fanny's hubby. She's been really busy with work lately, so I
thought I'd tell you the first part of the story of our fun and games in
Greece. If you like this picture and story, please send Fanny some
encouraging feedback at missf1@hotmail.co.uk. I'm sure then she'll write in
about the incredibly hot and naughty stuff we got up to later in the trip.
This picture was on a beach in Greece, a different one from where this story
took place. Fab nipples in this one! If she gets enough good feedback, I
think she'll send in a whole nude photo from the beach where this story did
take place.
On this day it was incredibly hot and sunny on the stunningly beautiful
island of Kefalonia, so off to our favorite beach we went. We decided to be
adventurous and go to the nude part, which is past the large rock
outcropping - completely isolated from the main beach. We stripped off,
rubbed each other head to toe with sun cream and stretched out in the
glorious sunshine, the crystal clear blue waters of the med a few steps
away.
It was only our second time at a public nude beach; before that we'd only
gone nude at totally isolated beaches. It was great fun, as we were only a
few feet from the water's edge, right along the "walkway". All day long
people would peek around the big rocks and realize it was the nude section.
Reactions were hilarious. Most people hovered at the rock and turned back,
but many came walking down the beach, directly past us. They had to walk by
us twice only a few minutes apart, as we were nearly at the end of the
beach. They had no choice but to turn around and walk past us again - not
that anyone seemed to mind!
Lots and lots of guys walked past, most in their 20's. It was a rush for
both of us knowing these fit young men were checking Fanny out head to toe.
They were usually more obvious on the second pass, looking straight at her
gorgeous naked body and giving approving looks. Funniest was an older
flabby American bloke who actually said good morning to us as he went
passed.
I particularly enjoyed the pair of 20 year old girls who walked past and
checked me out, though I pretended not to notice them looking.
Then the real fun begins. Late in the afternoon a speed boat pulls up near
us, drops anchor, and the couple on board jump off carrying an umbrella and
towels. They make a little camp about 50 feet from us at the foot of the
sand cliff, away from the water. They run back to the boat for a few other
things, already naked, except she was wearing a tiny thong bottom.
About half an hour later the bloke wanders up to us, dick dangling in the
late afternoon sunshine, and asks if we've got a light, which we did. He's
Greek and can barely speak English, but we manage a little conversation. He
wanders off, but comes back a few minutes later with his wife and some fresh
melon to share as a thanks for the light. His wife is lovely, with huge
tits and a very slim figure. She can't speak a single word of English. We
chat for a bit using his few words of English, hand signals and drawing
pictures in the sand. The general misunderstandings are hilarious. After
half an hour of this he says they're going back up to their blanket "to
fuck" (one word he did know).
Fanny and I go for a brief swim, Fanny getting out before I do. As I come
out of the water she's lying back on her towel, aglow in the softening
sunlight, resting on her elbows, knees bent and apart, her pussy inviting me
in irresistibly, so I climb on top of her and fuck her good and hard.
Beautiful.
A few minutes later our friends are back at our side, still totally nude,
dick and huge tits all dangling in front of us. They have their towels with
them and sit down, enjoying the last of our Greek wine with us. We chat as
best we can and make a date to have dinner together the next night at their
favorite restaurant. Next he starts displaying his wife for us, pointing
out her great tits and flat tummy. He's especially proud of her pussy, and
shows it to us lovingly, spreading her lips so we can have a better look,
and rubbing her clit. He can't resist and starts licking her pussy right in
front of us, suddenly oblivious to our presence.
After a minute Fanny whispers to me what should we do? I tell her to suck
my cock, so she kneels beside me and starts giving me a fantastic blow job.
Having my wife suck my cock always feels great, and it felt especially good
at this moment. I looked over at our friends and noticed she was staring at
my cock as Fanny's lips and tongue worked their way up and down it's full
length. That was a huge turn on for me seeing her staring so intently at my
very hard cock as her husband licked her pussy.
After a few more minutes of this her hubby started fucking her right there
next to us. Fanny took that as her cue and climbed on top of me and rode me
for all I was worth. It was glorious in the fading sunshine on the shores
of the Mediterranean watching them fuck as they watched us doing the same.
Oh that was good, very very good!
We all lay there for a few minutes enjoying the moment. But it was nearly
dark and starting to get a bit chilly. So we all packed up, confirmed our
dinner date for the next evening and wandered down the beach as they sped
off in their boat.
If you'd like Fanny to tell you about our dinner date, please send her a
little encouragement at missf1@hotmail.co.uk I promise it was hot hot hot!
John
HORNY PEOPLE'S FREE CHAT