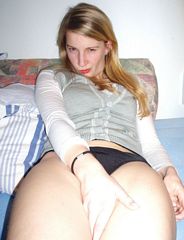 This Blog reminded me of an experience of mine in college. One friday evening I joined two of my friends on a group date with our respective boyfriends. After spending a long and fun-filled night drinking and dancing,moving from bar to bar, we ended up in the appartment which my two friends were sharing to spend a little more quality time with our dates.
When we got there, we at first hung out in the living room talking among ourselves, until we eventually paired off with our partners. Since this was the other girls' place, they and their dates went to their respective rooms , leaving me and my boyfriend alone in the living room. As there was no one else around, my boyfriend and I started making out in the sofa. After giving me a long deep kiss, he started caressing and rubbing me all over, till he started concentrating on my breasts. Getting turned on by what he was doing, I started moaning out that I wanted more, which prompted him to quickly remove my shirt and bra in short order.
Once he had freed my breasts, he started suckling on them like a babe, turning me on even more, and teasing me unmercifully to distraction. Following the removal of my clothes covering the top half of my body, my boyfriend then directed all his efforts to my still covered lower half. Taking advantage of confused state, He sneaked one of his hands down the top of my pants and straight into my sopping pussy, swirling his fingers around, testing and confirming my frenzied state of arousal. Needless to say, I just had to have more, and therefore begged him to go ahead and fuck me. Like a true gentleman, my boyfriend obliged me, but only after removing the rest of my clothes, leaving me absolutely naked. On the otherhand, my boyfriend remained fully clothed all the while, just undoing his pants and freeing his cock from its confines when he started to mount me. While my boyfriend was fucking me, I suddenly caught a glimpse of one of the couples we were with staring at us from across the living room. Seeing that I had an audience, I started to get more aroused and begged my boyfriend to give it to me more.
My boyfriend finally noticed too that we were being watched by ther others and responded by pulling me up till I was kneeling on all fours.He then turned me around till I was facing our audience, which by the way grew to include the other couple, as well, and proceeded to fuck me doggie style. During all the time I was being fucked like this, I couldn't take my eyes away from the people watching me,who in turn were equally staring at us in fascination. I was able to come a number of times before my boyfriend shot his load, which he did by pulling his cock out from me and spraying it all over my ass and back. My boyfriend and I just collapsed and lay there for a while after we came, oblivious of our other companions who joined us in the living room.
After recovering a bit, but still groggy from everything, I started wiping and cleaning myself as well as my boyfriend off our fluids with the pieces of cloth I automatically reached for. Which, incidentally turned out to be my clothes. When it finally dawned on me what I had done, I just sat there dumbfounded. My friends were equally shocked at what I did, though I suspect their boyfriends as well as mine, were more amused at my faux pas. Taking pity on me, my friends offered to have my clothes washed in their machine and one of them took them from me, including the bra and panties. It was only then that I realized I was still naked and the only one in the group that was, which made me so embarassed.
However, when I asked my friends for something to wear while waiting for my clothes, they wouldn't give me any and laughingly told me to stay nude the whole time, since I was the one who used them to wipe the cum of me and my boyfriend. The other guys, especially my boyfriend heartilly supported this. Well, considering that they were right, and that everybody there had already seen me naked anyway, I resigned myself to my fate and remained naked with them while they were all fully clothed, for the rest of the evening talking and drinking among ourselves, till my clothes had sufficiently dried, for me to put on and finally leave.
Kelly XXX
P.S. This pic was at that house and I am now a HUGE exhibitionist!
Flashing my Boobs at Burger King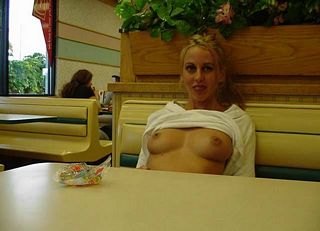 Hi,
My name is Amanda and we play 'truth or dare' with friends about once a month and usually when we have been drinking. Most of the dares are pretty tame except for the last dare of the night where somebody (whoever loses) has to flash a part of thier body in public for 30 seconds without moving. Now 30 seconds might not seem like a long time but when your BOOBS are EXPOSED at Burger King then it is an ETERNITY!!!!
Anyway as you guessed I lost that night and my dare was to do what I mentioned above but with my BF only. As proof, we had to get a pic of it and post it online so all my friends could see. I have done worse dares but any public dare gives you a rush no matter how 'easy' it may seem. So we decided on BK at and choose a booth at the back of the restaurant. As soon as it looked all clear my BF gave me the sign and I lifted up my sweater. He then started the clock and we waited. I was hoping to God that nobody would walk by cause if somebody did, then I'd have to let them look while I turn bright RED! I thought I was in the clear as the 30 seconds were up and I was pulling my sweater down but I noticed a couple walking by outside and they looked through the window and I am pretty sure they saw me as they both looked even harder and almost bumped into the door!! We didn't stick around, we raced to the car and drove off with my heart beating at 100 mph!
Some Chat Options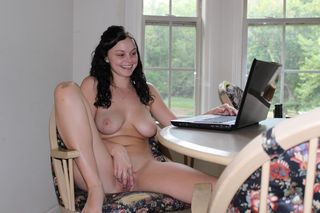 Hi,
I've had many readers ask me about chat and where to do so etc. so I'll list the options as I see them with my opinions of each:

1-

COMPLETELY FREE (almost):

- This site just needs for you to enter your email address "CLICK FREE REGISTRATION" (it can be a free email addy if you like), confirm it and then you can join all the girls on the front page and watch as they strip and tease all free. The girls are trying to get somebody to pay for a private show - which does cost - and in doing so they strip and tease for it. Most are model wanna-bees. But since it's free once you confirm your email, it's worth trying out.

2-

ADULT DATING (cheap):

- ... This is in my opinion the BEST option of the three. It is extremely cheap and has the largest number of real people in one place on the internet looking for chat and adult related fun. The cost turns out to be a mere $0.66 per day and you can then chat with anyone who is online and peer into their bedrooms and take it from there. Many TODP readers have signed up to that site and many have referred new dare submissions as a reult of their steamy chat sessions.

- Webmaster
Friday, May 27, 2005
A Dare for Couples
The Walk of Nude

This is a dare for couples. My girlfriend and I decided to play a game of truth or dare. When it was her turn she chose dare, so because she is so hot I made it a naked dare. I dared her to walk through our neighborhood at night in only a towel. There were two conditions though, she could only cover herself with the towel and on the way home she had to lose the towel and walk the rest naked.
I decided to walk with her when she did this dare. We waited till about ten o'clock before we left the house. From the moment the door was open I could tell how nervous she was,but I assured her that nobody would see us (I was wrong, very wrong).
We started down the street past a few houses before the trouble began. Our neighbor's dog, a small terrier, came by us and began barking. A few lights turned on but nothing more. Then the dog grabbed a hold of the towel and my girlfriend screamed. Within a few seconds a few of our neighbors came out to see what was going on.
When the neighbors came out all the saw was my nude girlfriend chasing the dog trying to get the towel back. In the end she gave up and continued the walk naked. I don't have any pictures but if any of you do this dare try to get pictures.

Dave and Cindy - AZ