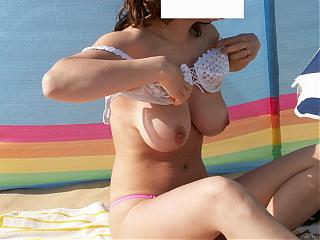 This summer my GF and I went to the nude beach, something we'd done occasionally in the past but this time we brought a dome style camping tent with us and it was absolutely the most exciting thing you could imagine because it enabled us to control exactly how much we wanted to do and how much anyone else could watch us.
We did this twice. The first time was amazing, within five minutes there was this very well hung black guy watching us. We hung around outside for a while and this guy kept watching us from a respectable distance but we could tell he was interested because he had no towel and remained standing some distance away but facing us.
Eventually we went into the tent and we could either leave the bottom of the door open so someone would have to be lying down to see us or or close the bottom and adjust the window flap in the door so only so someone would have to either sit up or even stand to see us. I know it is an incredible for most guys to see a girl please herself so I asked my GF to play with herself, something she is very good at.
She did, and this went on for quite some time and it was clear from the look on her face that she was receiving a lot of pleasure. She was laying with her feet towards the door leaving to the guy's imagination only the feeling of pleasure she was experiencing for real. She continued masturbating for a long time and it about drove the guy crazy because although he could see, he could not touch, not only her, but himself as well since he was exposed for all to see. But of course he was unable to contain his excitement and his member kept growing and growing. Once in a while my GF would sneak a peek at him and this would drive her over the edge again because he was so hung.
Once in a while she would ask me to finger her and I would, then after a couple of minutes I would bring my fingers to my face for a sniff and I'd lick my fingers and look at him and this would also drive the guy crazy. After an hour or two of this torture he had gradually moved closer and being unprotected from the sun we finally invited him to the door and offered him something to drink. We chatted with him a bit and as he was quite personable we invited him into the shade of the tent.
Up until that point several other beachgoers had been able to see part of what we were doing but after chatting a bit more inside the tent we eventually zipped the window most of the way shut, leaving just enough for ventilation and by now my GF was more than ready to play some more so she resumed what she was doing. And now the guy could stroke alongside her, she loved being able to open her eyes and see his huge cock just a couple of feet away. She felt secure enough because I was with her and because she was very safe, although they couldn't see us there were people all around us and if anything started to get out of control all we had to do would be to open the tent or even just make a lot of noise and there would be plenty of help immediately at hand.
Indeed, all this happened within a few hundred feet of the office for the beach police. All the while since we had entered the tent I had been stroking as well, so the guy could watch the both of us and now he was right there on the other side of her, stroking away. Several times he begged to touch her but I said no, we had to draw the line somewhere and that place was exchange of body fluids. His cock was dripping with precum so his hand was wet and she was soaking wet so that was that. My eyes were fixated mostly on her since she was cumming over and over, it was such a turnon to see and for both of us a turnon to have this guy watch her too.
So I was not looking at the guy when she suddenly said to me "Oh, look!" because he had finally lost control and had begun to spurt like crazy, with no place else to go he turned and came, spurting a lot of cum onto the front of his body. This set off my GF yet again and I came too. He apologized to us but was apologizing to himself just as much, for this would slow things down for the moment. We switched to eating and chatting for awhile then he said he had to pee and see some friends down the beach but that he'd be back in a while.
Well it took him quite a while, too long for us to wait to switch to fucking, we were hoping he'd be back in time to come in and watch us. Eventually he came back and we played some more. We had so much fun doing this we went back another time and had a fairly similar experience, several guys watched her play and cum over and over, they certainly were glad they went to the beach that day! All this to say that this is something more people should try. You get complete control over the situation so it's very safe, much more so than taking someone home or to a hotel room and you get to check out the goods from the start. Things progress on a continuum and without interruption and can easily be stopped at will.
NUDE VIDEO CLIPS
UNDERWATER GIRLS